Holy stage presence, Batman. Delta Spirit played at the Music Hall of Williamsburg on October 2nd, 2014 and blew the crowd away. It was by far one of the top five shows I've seen this year. Probably in my top 10 ever. The energy from all five band members, combined with the distinctly raw but smooth vocals of Matt Vasquez, and matched by the uplifting instrumentals was out of control. And pianos + double drums? Game over.
Despite being a big, big fan for somewhere around six-seven years, I was afraid that the show was going to be a bit of a snooze. Boy, did they prove me wrong. They also completely converted my friend, who had previously described their music as "bleh" after giving it a listen. Silly her. She couldn't believe how good they were live.
The band did not miss a beat and front man Matt Vasquez's (also one of three members to form the band Middle Brother) ability to go from thoughtful ballads to scratchy bellows with ease was incredible, not to mention his propensity for playing the guitar with his teeth or holding it above his head.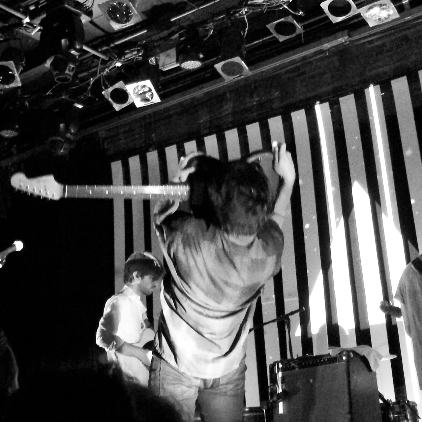 I truly appreciated that they played a lot of their older stuff. They covered all of my faves and making me appreciate their newer material much more than I had. I danced my little heart out.
I especially enjoyed "Tear It Up" from their 2012 self-titled album after opening with "From Now On" from their new album Into the Wide (2014) and went fucking nuts for "White Table" from their sophomore album History From Below, which they just played the shit out of right before the encore, in a good way, of course.
The one and only disappointing element of this show was that every band member proudly wore their wedding band. Just kidding. (But not really.) 😉
Full setlist below. To reiterate…if you ever have a chance to see Delta Spirit live, do it. You won't regret it.
Setlist
From Now On
Tear It Up
Empty House
Parade
Live On
Hold My End Up
People C'mon
Yamaha
Bushwick Blues
Language of the Dead
Patriarch
Trashcan
California
Children
White Table
Encore – coming soon – was too busy dancing to think of song names
Article by Shannon Byrne
Other posts you might enjoy:
AUGUSTINES TAKE THE SHOW TO THE STREET AT THE BOWERY BALLROOM
THE DRUMS THROW DOWN A FANTASTIC SET AT THE MUSIC HALL OF WILLIAMSBURG