We're still pretty early on into 2015, but I've already been to enough food, beer, wine, and whiskey festivals keep my liver and digestive track busy until September. Unfortunately for Mr. Liver, food festival season is only just beginning. With spring training starting this week, baseball stadiums across the country will be buzzing before we know it and Citi Field will be hosting the Bacon & Beer Classic on April 25. I've never actually been to Citi Field. Being a Yankee fan my allegiance goes with those wealthy pinstripe playas in the Bronx. This time however, I'll be getting my indigestion game on in Flushing for what should be an epic gluttonous afternoon.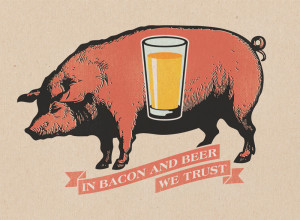 The Bacon & Beer Classic will be hitting up baseball parks and stadiums across the country this spring/summer from San Jose, to Indy, to Seattle, to Queens. Built around the good 'ol American value of baseball, beer, and bacon, it'll be a place where people can leave their radical religious ideals, and silly bias political views outside, and for a few hours just enjoy the smell of a fresh cut big league field, gallons of bacon grease, and some crisp cool brew to ease the tension as the late Chubbs Peterson used to say.
I highly recommend you buy your ticket and take part this the most American of traditions and celebrate the return of baseball, warm weather drinking, and the consumption of God's finest meats in the house that Madoff built.
Article by: Tommy Shackleford