[soundcloud url="https://api.soundcloud.com/tracks/197148158″ params="color=ff5500&auto_play=false&hide_related=false&show_comments=true&show_user=true&show_reposts=false" width="100%" height="166″ iframe="true" /]
With the release of the second single off their forthcoming album Mister Asylum, Brooklyn based band, Highly Suspect, unveils "Lost,"a song that is rife with bolting guitar riffs, penetrating drums and a learned sense of self-awareness. Comprised of Johnny Stevens (guitar, lead vocals) Rich (bass, vocals) and Ryan Meyer (drums) the trio have undergone a considerable amount of growth since haphazardly becoming a band in 2006.
Having recently been added to the roster of artists represented by 300 Entertainment, the band has the potential to find a marketable niche, both in terms of their sound and commercial appeal, which is dependent upon their character or superficial selves; their tattoos, their whiskey, their "no fucks" and their good looks, but their success is going to be driven by their talent and a seemingly effortless capacity for creating arena-worthy rock ballads.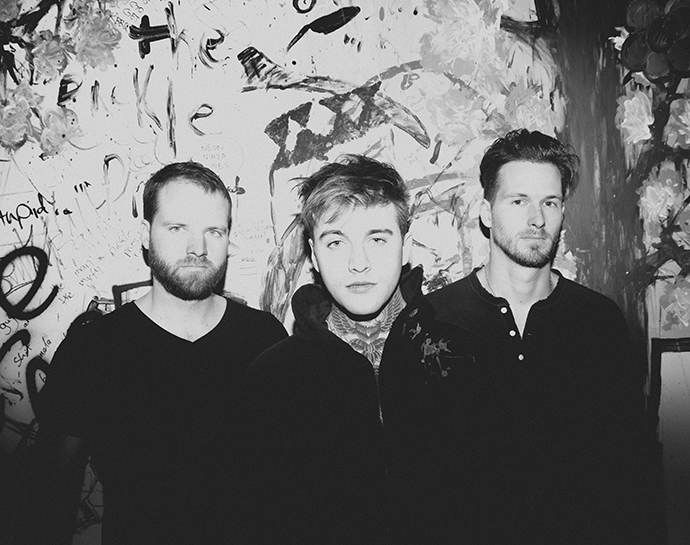 As lead vocalist, Stevens has the kind of range that requires no instrumental context to be impressive, especially on this particular track. Whether he's cutting his blues laden drawl with a subtle change in pitch or simply using a soft consonant over a hard one, the front man has a melodic and emotional authority that resonates far beyond a single listen.
What's particularly unique about Highly Suspect is their obvious intuition for how to best represent their ineffable essence as a single unit. Maybe it's the Meyer twin's proclivity for symbiosis, if you believe in that sort of thing, which triggers a deeper sense of connection between their respective musical styles. Regardless, all three members seem to have an acute sense of each other's afflictions and affections, a coveted ability to isolate a dull and stubborn ache and turn it into something rare and worthwhile.
Article: Lea Weatherby