Released in April of 2015, Michael Rault's Living Daylight is a tuneful exploration of guitar-based melodies, lightened by stinging streaks of the psychedelic and surreal. Artfully capturing the energy of garage influenced pop rock, each song renders the Canadian musician as a writer with a clear instinct for harmony and arrangement. A multi-instrumentalist, Rault first began playing music as a kid in his hometown of Edmonton. Speaking to Pancakes and Whiskey in late June, Michael Rault talked about the making of the record, leaving Edmonton for Toronto and how he approaches songwriting, revealing that "you can get a little bit stuck if you try to approach it too seriously at first and try to sit down with the intention of writing a song."
[soundcloud url="https://api.soundcloud.com/playlists/101436333″ params="color=ff5500&auto_play=false&hide_related=false&show_comments=true&show_user=true&show_reposts=false" width="100%" height="450″ iframe="true" /]
"Sometimes sitting down and messing around on various instruments and kind of just jamming is a good way to get the process started. But it's cool, with the way that I'm doing things these days the starting point could be drums or the starting point could be keys or the starting point could be a guitar or any number of different variations within that. So I can just sit down with something and mess around with it and see if I get a little idea that I can build into something." And while he describes the keyboards as his "weakest link," Rault does acknowledge how different instruments can often bring out different sounds and textures during the writing process.
"I find more interesting melodic ideas when I'm playing keyboards. I think also potentially because I just don't know my way around the keyboards as well as I know my way around a guitar, I find myself stumbling into things I wasn't trying to do that end up sounding cool. I don't really write on drums very often, but when I do play drums, I approach things on a more rhythmic side and come up with more bouncy, dance-y ideas compared to when I'm writing with a keyboard or with a guitar." Providing much of the record's spark, the nimble melodies and instrumentation comes directly from Rault and his cousin, Living Daylight producer/musician, Renny Wilson. After describing how they "split the instruments down the middle," Rault spoke about avoiding cliché and preserving imagination when it comes to his own style and playing.
"I try to avoid falling back into doing really typical, classic guitar rock things, or at least avoiding doing that if it's not feeling inspired because it's easy to fall back on the basic go to things for rock and roll music. That can get a little bit tired and boring, especially if it's not actually feeling like there's some sort of inspiration in the moment with it." Although when it came to making the record, Rault's move to Toronto may have been the most vital in determining the music's direction. Firmly influencing the recording atmosphere and environment, the musician's relocation would ultimately generate and shape the album's subtle, story-like narrative.
"More so than trying to write songs about moving to a new place, it was more just that I feel like the vibe of the record is like a solitary record because I started working on it on my own. And then even when I started working with my cousin it was mainly just the two of us, occasionally with other people coming in. It wasn't like a big hang out with a bunch of different people working on it. I was also in a place where I was just moved into a new city so I wasn't hanging out with a ton people because I didn't have a whole social scene there yet, like I'd intentionally moved somewhere where I didn't know a ton of people to try to see what would happen in that situation. And so I think mainly, it was just that the vibe of the record is from somebody who was spending a lot of time alone in their bedroom working on music, as opposed to a number of different, more social environments that you can make music. I think that's kind of the main influence on the mood of the record. I think it comes out a little bit lyrically as well, but it wasn't like I sat down and tried to write a record about moving to Toronto from Edmonton."
Adding to the homemade feel, Rault designed and constructed the album jacket himself after feeling dissatisfied with some of the ideas presented to him. Using only construction paper and scissors, he jokingly likened it to "kindergarten artwork," explaining how he had concluded that, "it would be better if I made the record cover and it was in the vibe that I wanted it to be in, even if it was a little bit shoddy in terms of artistic craftsmanship. I haven't had any training in design or anything like that. I had just decided, I was like, 'Yeah I can probably make something that I'll be happy with and it will have its charms and its flaws will probably be charming.'" Specifically inspired by the cover art for Dr. John's 1969 album, Babylon, the collage like illustration communicates the collection's vivid appeal with each carefully placed strip of bold, blazing color. And while he joked that it was nothing more than "trying to do a poor man's version of the Dr. John album cover," the record's title further pulls the music's dreamier qualities into sharp focus.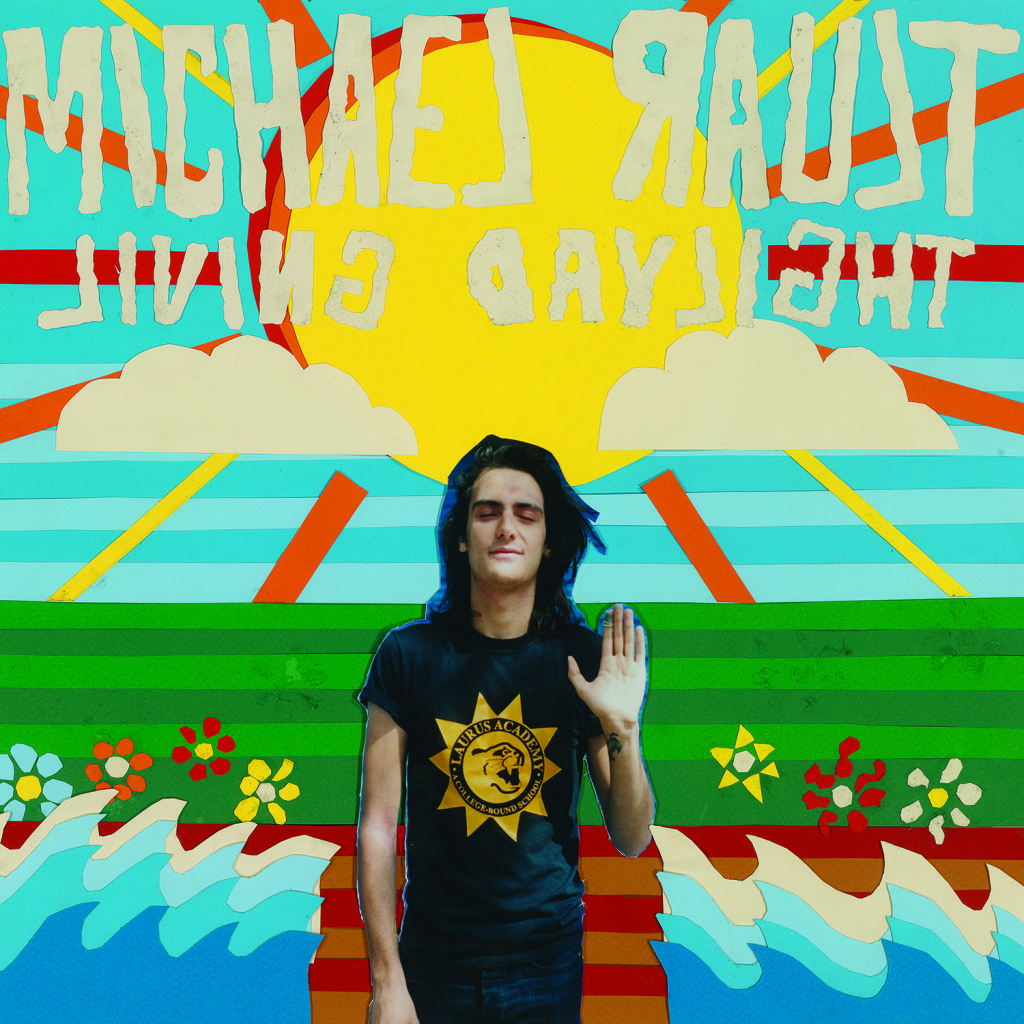 "The album title was just something that popped into my head. I was actually trying to come up with a name for another band that I was going to play with that never actually played any shows. I kind of had it in the back of my mind that I was supposed to be thinking of a band name and the idea of the saying, 'living daylights,' like someone's going to 'knock your living daylights out' or whatever, it's like this weird, old, tough 1930's saying. But the funny thing is, I was thinking about it and I was like, 'This seems like a really psychedelic concept that somehow came out in the speech of people even though it was a pre-psychedelic age.'" Currently on tour, Rault and his band infuse their sets with an air of spontaneity, regularly improvising parts that maintain the psychedelic influence and surging energies present on the record.
"My favorite song to play live is "Too All My Friends," which is the last song on the record. In the studio too, we ended up making it so it was a really soft song, but in the middle it get's really abrasive. We were doing a lot of noise with synths and a really abrasive fuzz solo. It's all juxtaposed with this really constant, soft back-up vocal part and bass line. The bass line was the main inspiration for that song, that was the idea that came to me, and I knew it was going to be a cool idea, whatever I did around it. That one just really lends itself to a cool live setting, I think because it gives me a chance to play a lot of guitar and to get really loud and crazy in the middle." Although Rault explained how some of the most memorable moments emerge when the unexpected happens. Describing "Suckcess" as "one of the ones where we usually do a lot of really noisey, improvisational stuff throughout the solo sections," the musician spoke about the impression it makes on the band and their audience.
"When we're playing live it tends to get way more drawn out and there's definitely some nights when you get lucky and it has a certain magical element to it…we all do something that we've never done before. We all get really excited about it and that tends to make the crowd excited, or at least it feels like that's what happens."
Article: Caitlin Phillips