If you've never been to Brooklyn Bowl, and I'm ashamed to say, I had never been until Wednesday night, then I suggest you add that to your New York "To-Do" list. In the heart of Williamsburg, it's not only a great place to get drinks with friends and to bowl a few games, but the stage is always booked with exciting musical acts to entertain the many patrons during the evenings. This Wednesday was no exception, as East Love headlined their biggest show to date. With Anna Rose and Beecher's Fault opening the gig, it wasn't a night to miss.
I have been a fan of Anna Rose since I first saw her perform in April of 2015. If there's ever a point I'd like to reiterate, it's that you should make sure to never miss out on her shows. She is one of the most consistent and powerful performers I have seen, and she takes the vocal cake in the NYC music scene for me. This girl has pipes! Not only is her range undoubtedly large, but also her tone and her rock 'n' roll grit never fails to impress and amaze me. She opened the show with "Behold A Pale Horse," which is the album opener and title song from her 2012 release. A few highlights from her set included "Electric Child," "Bury Me Deep," one of her new tracks "Start a War," and her epic cover of "Manic Depression" by Jimi Hendrix. At one point, Anna Rose said, "Stay and have drinks. The more you drink, the better we sound," before winking at the crowd and proceeding to play. She most certainly impresses without the extra drink, but the audience fondly took her encouragement.  She closed the show with the riff heavy "Los Angeles." Her band was tight, her bluesy rock voice is incredible, and she certainly started off the night right.
Following Anna Rose was Beecher's Fault. These guys did a wonderful job of garnering even more of a crowd in front of the stage. Their cover of The Killers' song "All These Things That I've Done" was a hit. Their original tracks were catchy with an alternative rock sound coupled with just the right amount of pop. I absolutely intend on familiarizing myself with more of their music.
The crowd just kept continuing to grow by this point when East Love finally took the stage to the delight of many fans. The band, consisting of Lukas Effman, Robbie Fink, Alex Goldstein, Alex Utay, Andy Koehler, and David Berliner kicked off their set with a song that began its development when Effman, Fink, and Goldstein were in high school together. The evolved track was a great way to open the night and invite the audience to be a part of their group of friends for the evening. They continued with the catchy and upbeat "Firefly," before slowing it down with one of their most popular tracks "Straight Lines," with the great lyrical hook, "why am I moving in circles when I'm looking for straight lines?" They later played "Unbroken," another slow jam, and one of my personal favorites of theirs.
East Love kept the crowd revved up with the most surprising cover of the evening, "Always Be My Baby" by Mariah Carey. They added a funk flair to the song that was wonderfully unexpected and greatly appreciated by the 90s kids in the crowd. A cover mash up performed by the guys was "Let's Think," which combines the recent pop hit "Thinking Out Loud" by Ed Sheeran with the soul classic "Let's Get It On" by Marvin Gaye. These two songs from completely different generations somehow come together and make sense. Effman's vocals soared as he belted Gaye's famous lyrics, "I've been really trying, baby, to hold back these feelings for so long…" It's a treat for the ears as Fink and Goldstein's vocal harmonies melded so well together with Effman's strong and soulful sound.
The guys then performed a song that is near and dear to their hearts called "Stop and Think." Before starting to play it, Effman told the audience about their late friend, Jonny Kessner, who remains a true inspiration to them as they continue to grow and create music together. It was heartwarming when Fink recalled times he spent right there at Brooklyn Bowl with Kessner. While the subject was sad, East Love did a wonderful job of dedicating this song to their dear friend.
After doing an upbeat, full band version of Justin Bieber's "Love Yourself," causing a whole crowd sing-a-long, they played a mix of originals and covers, closing out their pre-encores with "Better Than Being With You." This song features Fink and Goldstein a bit more in a vocal capacity. Along with Effman, they each have their own verse to sing. When the song ended, they walked off stage to cheers for an encore. Lead guitarist, Alex Utay casually walked back on stage alone, picked up his electric guitar, and began to play a funky riff, using his pedal. The rest of the band joined him, and they geared up for their next song. Utay is a phenomenal lead guitarist, and he set the band up for an a very exciting cover of Blackstreet's "No Diggity," featuring Effman, Fink, and Goldstein singing on different verses. Utay's guitar solo was fantastic, and the crowd absolutely loved it as well.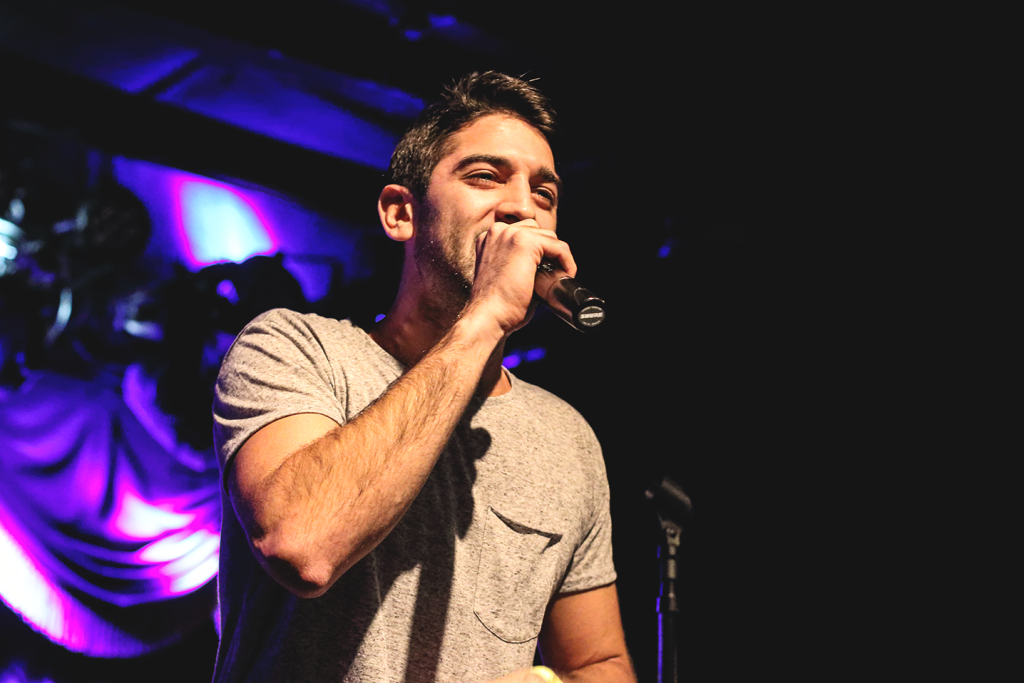 East Love closed out the show with their track, "Little Less." This song combines a lot of their strengths as a group and puts them into one track. Fink picked up the bass for this one. As most musicians know, the bass truly holds a band together even though it might not be quite as apparent on stage. In "Little Less," the bass line is front and center throughout the track. It was exciting to hear the bass taking control in a more obvious way during their final song.
With the sound of thunderous applause behind them, they took a photo with the crowd, and East Love left the stage one final time. For their biggest headlining show to date, these guys certainly did not disappoint. I look forward to future shows of theirs and to see what they come up with next!
Article: Alex Feigin
Photos: Shayne Hanley