There is a certain magical quality to the art of cocktail crafting. Nowadays, it's less of the bottle flipping, glass spinning tricks from the movie and more of an alchemical, step behind the curtain type of wizardry. Ingredients burst into flame, change colors and highlight hidden flavors, to the delight of the eyes and the palate.
Superfly, the people behind The Bonnaroo Music and Arts Festival, has tapped into the glamour of mixology to bring us Cocktail Magic, a celebration of illusions, booze, beats and bites.  The event comes to NYC and Boston this month and features a lineup curated with the help of cocktail visionaries Julie Reiner (Clover Club) and Andy Seymour (B.A.R).
Heavyweights like Dutch Kills, Attaboy and Broken Shaker will be paired with canapes from Roberta's. Magicians Jon Armstrong, Matthew Holtzclaw, Noah Levine and Francis Menotti will provide the entertainment, with Vampire Weekend's Baio (NYC) and Neon Indian (Boston) on hand to provide the tunes.
"This will be a cocktail destination unlike any other, a place to experience the very best in American cocktail culture," says Kerry Black, co-founder of Superfly. "Cocktail Magic pairs pioneers in the industry with delicious eats, great music and bold décor in a completely original way…an out of this world event."  Personally, this is everything I never knew I even wanted. Remember the awesome magic specials that aired in the 90's? Take those, add an expertly crafted aperitif and a delicious hors d'oeuvre. Throw in some hazy chillwave and you've got yourself a night to remember (or forget, depending on how you choose to play it).
Cocktail Magic travels to NYC on March 19th, followed by Boston on March 26th, with dates in Washington DC and Chicago to be announced soon. A portion of the proceeds will go to the Well Dunn Foundation. Tickets are on sale at www.cocktailmagic.com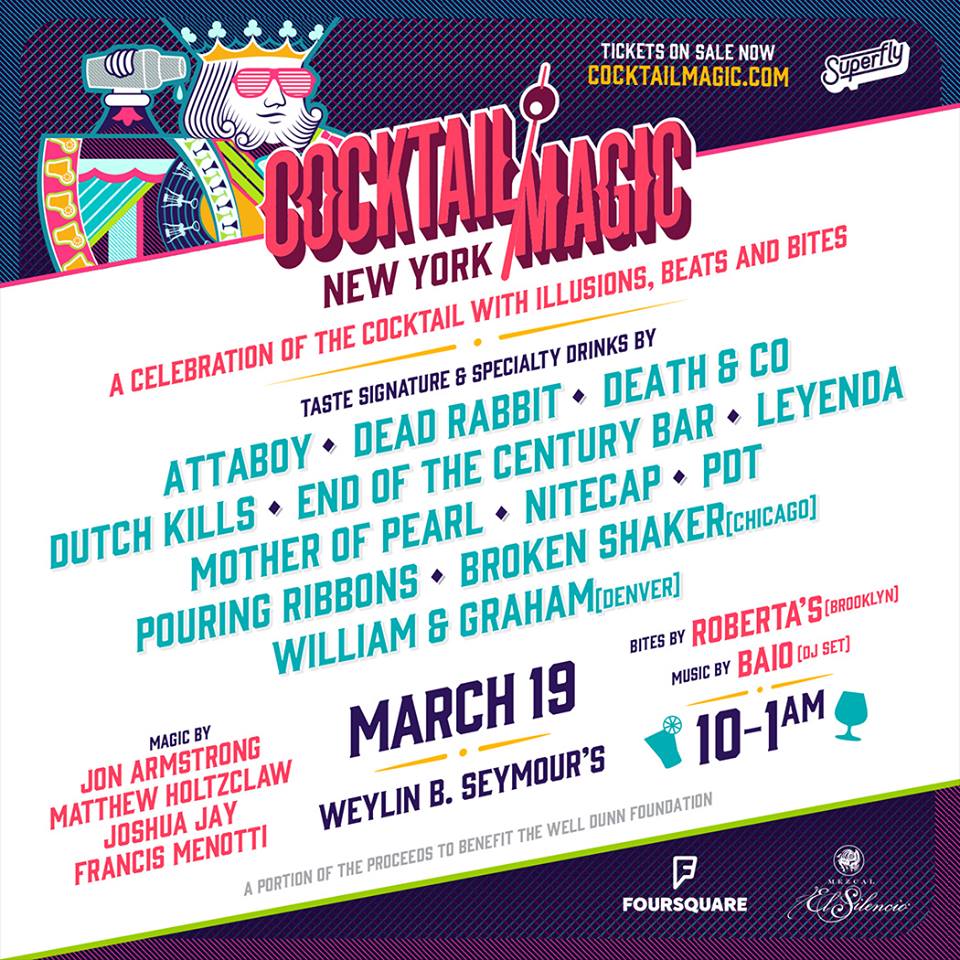 Article: Stephanie Moise