"Pop music celebrates life. My songs are protest songs against existence," said the legend of modern alternative music Robyn Hitchcock as he played the remarkably tiny Williamsburg, Brooklyn venue Grand Victory with a stripped-down acoustic show that journeyed over his widely bizarre career. That intro gives you a great idea of the absurdist humor and surreal eloquence that is Robyn Hitchcock, both the music and the man as well as the harmonizing ringmaster that he embodies. He started off in the late 70's as the frontman of The Soft Boys, a band that was both cutting edge alternative rock before there was even such a genre label and synonymously a return of the mid-60's London Underground sound that laid the ground work of so much of the modern rock we crave today. He's an artist who wears he's influences loud and proud upon his sleeve, from Pink Floyd's first frontman Syd Barrett, to better-known greats like Bob Dylan and John Lennon. Yet, like any great artist, he mixes those inspirations up in just the right tasty brew to sound resoundingly original. Since that once so inventive band parted, he has had many solo projects with many different backing band setups, that this was that rare opportunity to catch a master of this magnitude up close and stripped down to his bare essentials in a sweaty packed bar. It was one of those shows that reminded me of why I love going out to see shows so damned much.
The Australian by the name of, Emma Swift, who moved to Nashville to sing country songs just a few years back opened the show. Her darkly soulful take on the sound of female country masters like Patsy Cline and Loretta Lynn is a dreamy intoxicated trip that sometimes drifts into Mazzy Star or Cowboy Junkies territory, but does very much capture the essence of classic country soul in its purist form.
"Bob Dylan was the Morrissey of the 1960's, so here's a song by me," said Robyn in another hilarious diatribe between songs. That was that sort of madman abstraction that bended your mind as much as it made you laugh your butt off that pretty much defines his music as a whole. After he came out dressed in his iconic polka dot shirt and charmed the audience with that deadpan British wit and accent, he broke right into one of my favs "My Wife and My Dead Wife," then into the super wacky "Cheese Alarm," and even into the even sillier NYC love letter "Balloon Man." He finally grabbed into some of his more well-known material with "Glass Hotel" from the infamous 1990 album Eye, followed by the wonderfully silly "I Don't Remember Guilford" from 99's Jewels for Sophia, but I know I also recognized a few rarities in the mix carrying forth.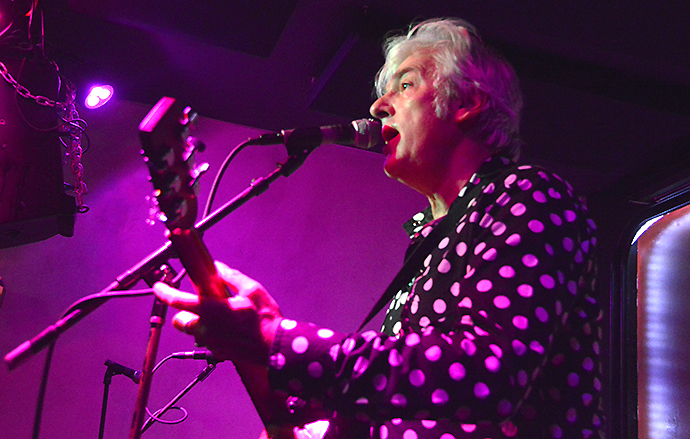 At one point, he lost track of where he was on his set list (which was written in spiral form on a plastic plate), so he began taking requests, which led to some pretty hilarious choices. Songs that stood out to me included the whimsical "Trilobite," the classic "Chinese Bones," and "Mad Shelly's Letterbox," but there were definitely also a lot of deeper cuts in the set. In the end, he brought Emma back up on stage to harmonize to the classic sing-a-long "Queen Elvis." She was also on stage when they made their way back from the bar for an encore where they did some covers like "The Crystal Ship" from the Doors and two surprisingly on the nose versions of Dylan songs "Just Like A Woman" and "Let It Be Me," which brought the whole room to a pin-drop quiet state as everyone salivated from all the awesomeness.
Article: Dean Keim