In the heart of Williamsburg, on the corner of North 6th and Wythe, hides National Sawdust, a concert venue that lives up to the standards of Lincoln Center's acoustics and beauty. Tucked away in a graffiti-covered warehouse looking building, the venue is just waiting for the right people to discover it.
Saturday night I ventured over to National Sawdust for Arthur Moon's debut show. Arthur Moon is the moniker for Lora-Faye Ashuvud, whose six-piece band consists of bassist Marty Fowler, keyboard player Rachel Brotman, guitarist Nick Lerman, drummer Dave Palazola and vocalist Aviva Jaye.
Lora-Faye's vocals bounced of the white textured walls and danced along the criss-crossed black lines that traced the arches of the room. Arthur Moon's sound is quiet, intriguing, slightly haunting and soothing to the point that makes you feel like you're in a whole new world far away from anything bad or stressful happening in your life. Though quiet, there's still a touch of rock that comes out every once in a while that perfectly counteracts the more intense moments of a song.
Their songs consist of thought provoking lyrics about life and how the world works. My favorite song of the night had to be "Wind Up." It talks about how society is overly influenced, my favorite line being, "but the mind is an arrow, little wind-up bird," and also includes a voiceover of guitarist, Nick saying, "our society doesn't always produce artifact things, but artifact people."
Arthur Moon performed all of the emotional, thought-provoking tracks off their recently released EP, Our Head, with beautiful simplicity and filled the room with, what I thought was a work of art in a space that looked like a work of art.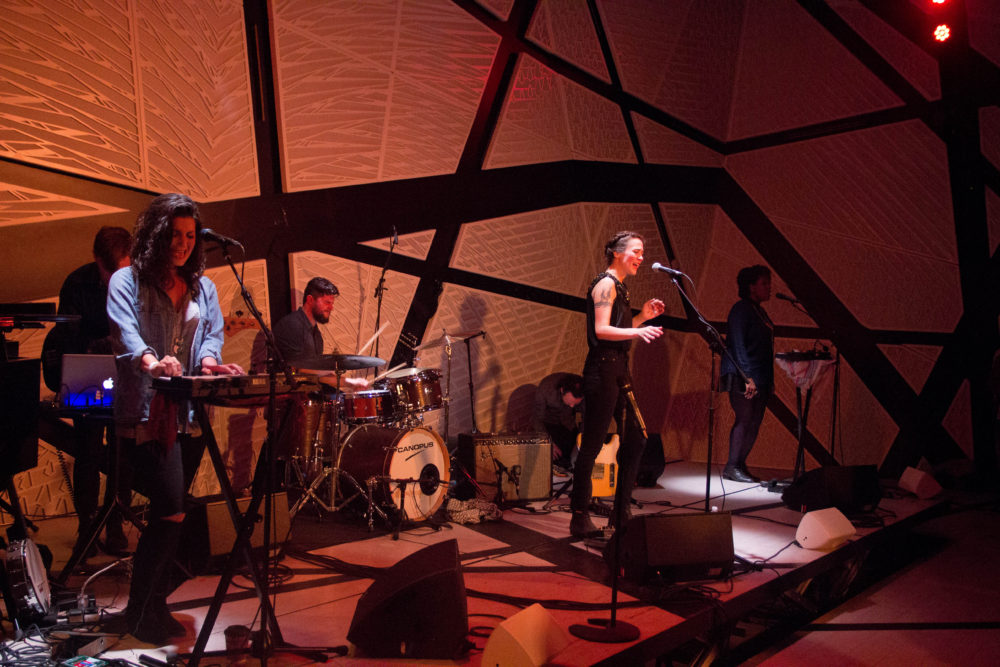 Article: Merissa Blitz