The elephant in the room at Upstate Concert Hall was security and what happened in Paris to Eagles of Death Metal, but it was not brought up by Jesse Hughes AKA: Boots Electric and the rest of the eagles. All that stood out was heightened pat downs on the way in, a security guard on stage during the show, and a mini Eiffel Tower on one of the amps throughout the show. The band just did what they do best all evening, rock out and have fun and get the crowd singing and dancing. I'm sure they want to put Paris as far behind them as possible, and if they continue to put on shows like they did on the last day of May, they will have no problem doing so.
Opening the evening was a glorious four piece all girl rock band Thelma and the Sleaze that live and breathe rock and roll. They were the perfect opener for Eagles of Death Metal as the two bands are kindred spirits in their music. With great banter between songs, lead singer and guitarist LG had the crowd in bouts of laughter with seemingly every song being about sex and then describing how she would have loved to have been able to hook up with mid-70s Stevie Nicks; going into a decent amount of detail and lots of praise for the rock icon. The music was nothing to be forgotten though with dark grooves and riffs, reminiscing early Black Sabbath and Led Zeppelin.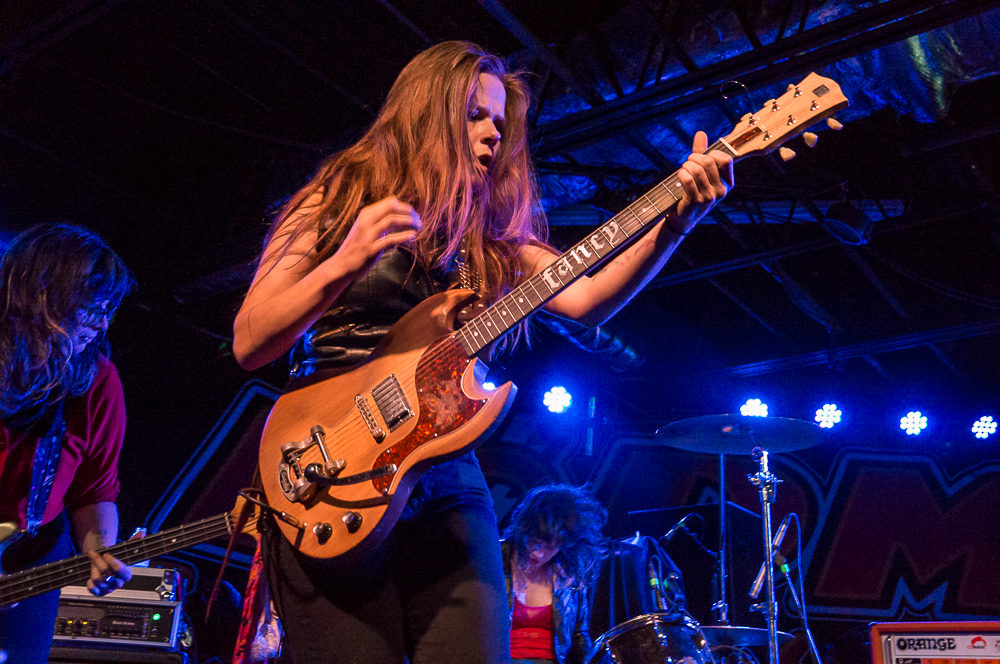 Jesse and company strode on to stage singing Pilot's 1975 hit "Magic" carrying an American Flag and riling the crowd up. Jesse is quite the front man and knows exactly how to get a crowd going wild. His sense of humor was constant between songs and his stories to introduce the songs were long but welcomed by the crowd. Helped by a touring guitarist and keyboardist, Eagles of Death Metal put on and old school good time rock and roll show.
Unfortunately the size of the crowd wasn't large and people in the Capital District missed out on this show, but those who were there made it sound close to sold out. With that much enthusiasm coming from the crowd, the band seemed to have even more punch than usual. According to Jesse, it was the band's first performance ever of "Skin-Tight Boogie" and it seemed that they did it for the crowd more so than themselves.
Eagles of Death Metal is comfortable on stage and it's wonderful to see them revel in being in the spotlight at all times. During the final song of the night "Speaking in Tongues," Jesse and Dave played some wild guitar solos and were answered back by Matt and Jorma on bass and drums playing a little "Rock and Roll All Night" with the crowd singing it for them before going right back into the song and finishing in a wild fury of feedback. As the band took their bows, Queens "We Are the Champions" blared over the speakers and couldn't have been more appropriate. All is right in the land of Eagles of Death Metal and they know it.
Article: Bryan Lasky