The unlikely innovators of the modern post-rock scene Tortoise just returned with their first new album in several years, and they also tore through NYC for a set of shows, the first at LPR in the West Village, and I caught the second at The Hall at MP in Brooklyn. This group has always been such an improbable trendsetter of popular alternative music, not only because they are an instrumental band, but also because their music is far more progressive, jazzy, and experimental than you'd expect the endlessly trendy modern music scene would respect. Yet, this band has been defining, innovating, and pushing the alternative music genre since the early 90's, and have shown no signs of slowing the progress of their evolution thus far. To show off they experimenting insides, they enveloped themselves inside a broadly experimental shell of a show, which proved to be the perfect trifecta of 1990's experimenteurs that also explored the contrasts and compliments of raw post-modernism and the lush orchestration prog rock
The show's ignition was lit by Tara Jane O'Neil, a brilliant visual artist, painter, multi-instrumentalist, and singer/songwriter, who has grown increasingly melodic since her time with the mid-90's experimental post-hardcore Louisville band Rodan, as well as her time with Ruby Falls and The Sonora Pine. As a solo artist, she has been largely known for deeply lyrical and harmonic elements of a mellower post-folk sound, which she first started fooling around with around 1993 with her partner Cynthia Nelson in an effort called Retsin. In the early ought's, she started a greatly underrated trio led by Anna Padget named Naysayer, which I still adore. Yet, on her more recent solo material, she has shown a curiosity for the more intensely rhythmic, and was joined by Tortoise and The Sea and Cake brainchild John Herndon behind the drum kit to help her explore those wide expanses on stage. Her new self-titled album is due out on April 21st via Gnomesong Records, and from what I heard this night, it is likely to be her strongest and most forward-thinking effort yet.
After that, the experimental kid gloves were torn away as the mind-bending duo project called Little Black Egg took to the stage. This musical venture has taken many forms in the past, but it is primarily known as Yo La Tengo's drummer, singer, and multi-instrumentalist Georgia Hubley's solo guitar side-project, even the other two-thirds of YLT have been involved on some shows before. However, this night she was joined by frequent collaborator Tony Maimone behind the synth board for a trippy instrumental ballet. Maimone is best known for his work in the ground-breaking avant-garage band Pere Ubu from the 70's right up through the 90's, but has also worked with the likes of Bob Mould, Frank Black, The Mekons, and They Might Be Giants to name a few, as well as having become a dynamic fixture of the Brooklyn recording scene in recent years. Together, they produced some nicely layered guitar loops and synthy atmospheres that reminded me a lot of a looser version of King Crimson guitarist Robert Fripp's solo "soundscape" experiments. Unhinged and improvisational in nature, they clearly did not know where each track would take them, and thusly seemed determined to let the tunes ride away and create themselves.
When Tortoise performs, they really know how to fill a stage. Not only do they stuff the room with dense musical layers of heavy music, but they also manage to shove on stage an astonishing number of different instruments as well as all five musicians; and yet they still manage to find the room to continually switch between musical tools so often you feel as though some of them may have a serious case of ADD. They are known for multiple drummers, tricky time changes, and cerebrally jazz & classically-infused complexity and as unlikely as it may seem; that kind of innovative sound is exactly how they became one of the pioneering inventors of the 90's post-rock movement in the US. They've had a lasting effect on the scene up to the present day, as well as retaining the crown of king of the "post modern" rockers. Many people describe them as progressive rock, which can be misleading, as they are certainly not the show-off, solo-centric, and Spinal Tap-worthy patrons of the Rush, ELP, or Yes spectrum. Yet, they do seem to derive some mid-70's prog elements of intellectually drum-hungry King Crimson material and some of the jazz-baked ends of the Soft Machine experience. There are also some late 70's Krautrock, and pre-industrial minimalist vibes in there, with bunches of Can and Kraftwork exposed in their work. Still, as young guys largely from the Chicago alternative and punk scenes of the late 80's and early 90's, they found a way to blend those influences with the surprising elements of electronic house music, as well as genres as diverse as dub, jazz, and even modern classical. They learned that breaking musical stereotypes was as easy as bending mind-warping rhythms to their will. Today, we can see numerous examples of their importance in numerous bands and artists like Battles, Giraffes? Giraffes!, Chevreuil, Explosion In The Sky, and so, so many others.
So, in the spirit of progression and growth, their newest album The Catastrophist has given their fans a brand new reason to have a stroke: actual singing on a Tortoise LP (Oh, the shock and horror!)! Nonetheless, these eternal weirdos of the rock scene can still push boundaries as effortlessly as they layer their jazzy arpeggios, and thusly feel always evolving while strangely familiar. John Herndon and John McEntire spent much of their time facing each other as they wailed on drum kits, but both would take turns peeling off to play synths, some odd percussion instrument, or even pick up a bass on various tracks. As I said before, McEntire is also the man behind The Sea and Cake, and as much as they all shared in the design and construction of the and music, they seemed to be looking to him more often than not as the central cog keeping the whole machine running. However, the whole band is really top-notch, and each member plays their roles despite also being clever chameleons. The amazing guitarist Jeff Parker knows exactly how to propel a song without over-taking it. Doug McCombs was the man behind the bass and the master of the low end, and as he was always vigilant of not letting these guys fly away too far. Finally, you had Dan Bitney, spinning many of the synthy electronica chords that brought their older songs back for me. All five musicians had their shining moments without going into 10-minute long solos to prove it, and the music felt like this mythical beast that was organically growing in front of you. They did expectedly do a lot of new pieces like "Shake Hands with Danger," and Georgia Hubley even came back out late in the set to sing their only on-stage vocal number of the night called "Yonder Blue," which she actually also sings on the new album. There were some classic jams peppered throughout the set, but the encore of "Along the Banks of Rivers" really brought the house down.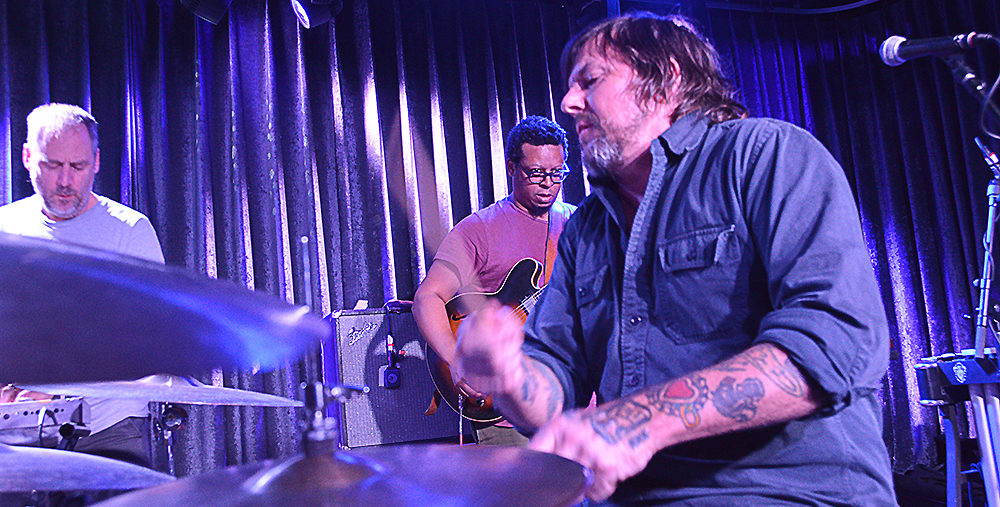 Article: Dean Keim