Going to Coney Island for a concert is kind of a big deal if you don't live there; so I headed out early to make sure the blessed subway wouldn't hasten my arrival, which in fact, was stalled on the tracks for 25 minutes (thanks MTA). On the long commute, I thought about what Bush meant to me personally, and to be frank, I didn't really like the British band when they were selling a billion records and seemingly on every radio-station in the mid-90's. Instead, I had a very small group of (more aggressive) bands I listened to, and really shut the door to a bunch of great bands in the process. Despite those thoughts, I was eager to see why they quickly became one of the worlds biggest bands nearly 25 years before.
Opening the night was Austin based Leopold And His Fiction, who we covered on a much smaller stage at the Bowery Electric back in February. The quartet brought a ferocious set of guitar-laden, garage-rock that had some hints of the classic Motown sound. With the 30 minutes they were allotted, Leopold And His Fiction showed why they were pegged for the slot with a enamoring stage presence that was wrapped tightly with some soulful rock n' roll.
The middle slot was owned by She Wants Revenge, who has been rocking out for 12 years; as lead singer/guitarist, Justin Warfield, reminded the audience when he asked how many people were hearing of them for the first time and a few hundred hands went up, including my own. The California band had a remarkable depth to their music and at times almost sounded like Placebo, and after doing some research, found out they toured with the English rock legends back in 2006. Hopefully they return soon, as a full set from these bad-ass dudes would be welcome.
As Bush took the stage, the diverse-aged crowd went ballistic as they tore into one of their bigger hits "Everything Zen," it was powerful and sounded as it did on the FM all those years ago. They would follow up with "Testosterone" and a new song of their latest album titled "The Beat Of Your Heart," which rocked hard, showing that the band hasn't slowed down in the slightest.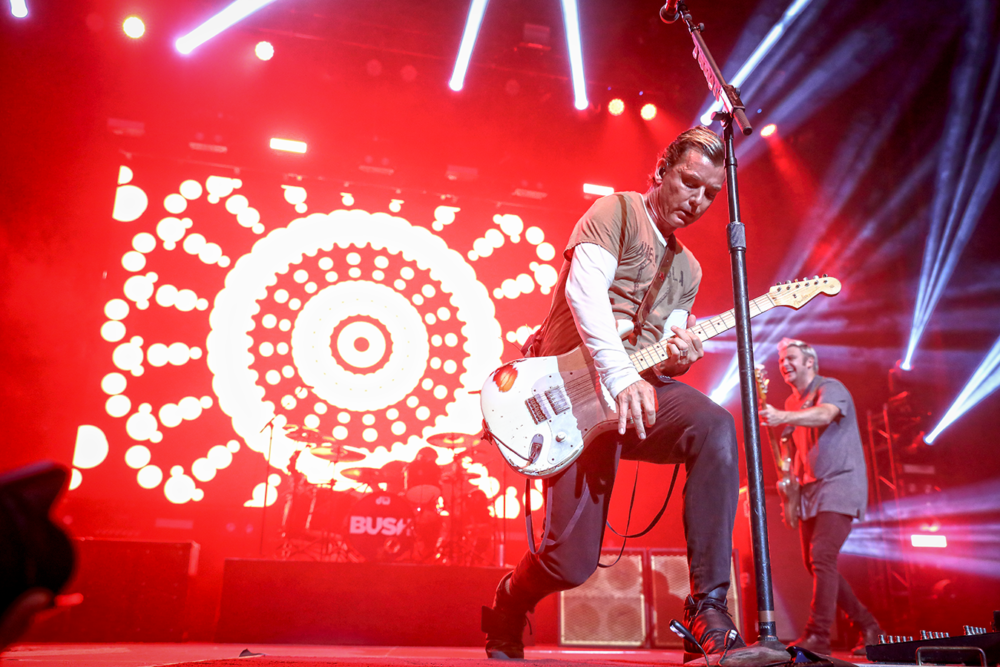 Making my way to the GA section after my three songs in the photo-pit, I felt energized as Bush started the gritty chords of "The Chemicals Between Us." Then a funny thing happened, I started singing the lyrics perfectly. Where the fuck was this coming from, I asked myself – I never owned their music, had never seen a live gig, but here I was singing it like I wrote it. This happened a few more times during the set, notably with hits like "Greedy Fly," "Little Things," "Machine Head," and "Glycerine."
I guess my judgement was all wrong so many years ago about the band, and in-fact, they are deeply-seeded into my memory as evidence of me singing along like they were one of my favorite bands. Sometimes life moves so fast and we wrap ourselves so tightly into our own existence, we don't realize something has had a profound affect on the psyche until many years later, when we grow and learn about our true self.
Article: Shayne Hanley