"There's literally nothing better than music to heal anything," declared frontwoman Hayley Williams, before the sold out Radio City crowd. Returning to New York for the first time in a little over two years, Paramore put on an absolutely stellar performance of old and new tracks that had the audience jumping and singing from start to finish.
Paramore opened Wednesday's set with "Hard Times," the synth-laced lead single off of their latest album, After Laughter. Under a kaleidoscope of swirling lights and colors, Hayley Williams fiercely commanded the stage with her infectious energy as she danced across the stage. Fans barely had time to catch their breath before the band then launched into "Ignorance," packing a powerful 1-2 punch to begin the show.
The audience's enthusiasm echoed throughout the room as they eagerly sang along with every word. "It's so good to be here in New York. It's been a long time, too long," said Williams. "Let's not ever wait this long to hang out again."
"I'm gonna say it how I feel – it's been a gnarly week. It's been shitty and emotional," Williams continued. "We wanna dance with you. We wanna sing, cry, and laugh with you … and we just love you so very much. You got your dancing shoes on?" The opening riffs of their 2007 hit "That's What You Get" filled the room and every note felt just as vibrant as it did back then.
The setlist featured a good portion of newer material from After Laughter, which contains some of Paramore's most personal and reflective lyrics to date. "When we were writing this record, we wrote a lot of happy, sad songs. In fact, I think we almost just called the record Happy, Sad," joked Williams. Guitarist Taylor York remained onstage for a pared down, acoustic version of "26" and the audience transformed into a glowing sea of lighters and mobile phones as Williams sang about the things she wished she could tell her younger self.
Before long, the party picked back up again with "Told You So," followed by a flawless cover of Fleetwood Mac's "Everywhere." A couple of ladies from the crowd were called onstage to join Williams for fan favorite "Misery Business" and it was a straight trip down memory lane. "Ten years ago was a simpler time," Williams recalled as she urged the crowd to close their eyes and think back to the days when they all used Sidekicks and she wore yellow skinny jeans.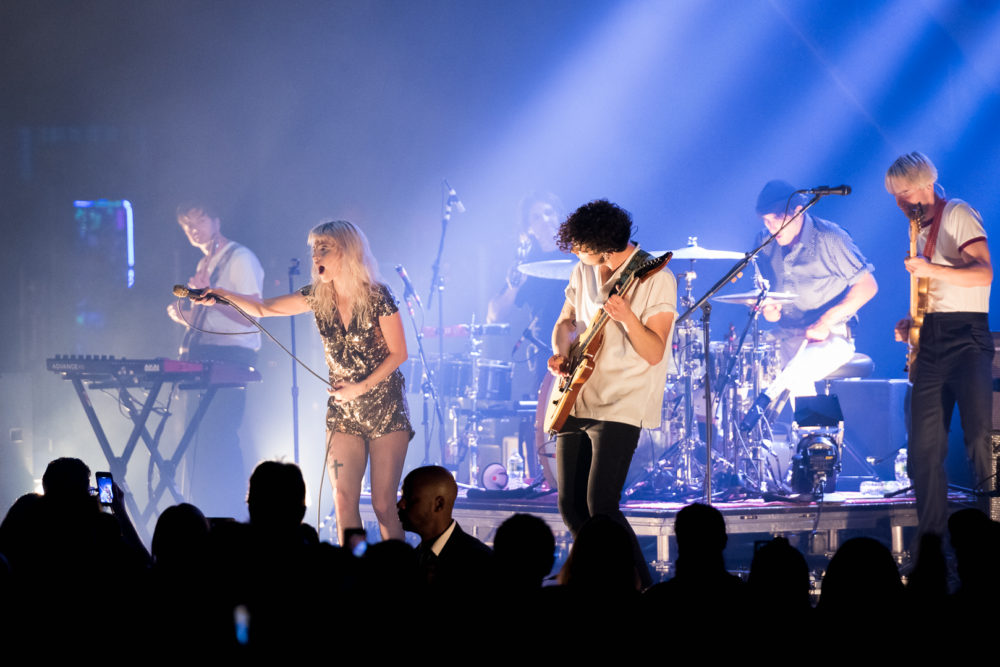 It was great to see original drummer Zac Farro back with Paramore on this tour, his powerful percussion transitioning back and forth seamlessly between the band's newer, '80s pop-infused tunes and their older songs as well. The encore featured Farro on the mic for "Scooby's in the Back," a groovy tune from HalfNoise, which was a project he had started during his hiatus from the band.
"There's a lot of choices that we could have made today, tonight, and leading up to this day," explained Williams in Wednesday night's show. "We all made choices that led us here together, to enjoy music and sing. That's something to celebrate." Wednesday's performance was certainly nothing short of a celebration, as Paramore debuted exciting new evolutions of their sound, as well the ability to grow with loyal listeners from their earlier days.
Setlist:
Hard Times
Ignorance
Still Into You
Daydreaming
Forgiveness
Brick by Boring Brick
Playing God
That's What You Get
I Caught Myself
Hate to See Your Heart Break
26 (acoustic)
Told You So
Everywhere (Fleetwood Mac cover)
Fake Happy
Misery Business
Ain't It Fun
Encore:
Caught in the Middle
Scooby's in the Back (HalfNoise cover)
Rose-Colored Boy
Article: Nicole Shyti
Photos: DeShaun Craddock