Making their way back to New York, Young Fathers played the first of two sold out shows at the wonderfully cozy Elsewhere. After a pep talk from a security guard about the bars that were open on both levels, a bunch of fans, myself included made our way to a good spot at the foot of the stage to get the best view of the action.
Kicking the night off, Atlanta-based band Algiers took the stage shrouded in pockets of darkness and red light. The soulful voice of Franklin James Fisher cut through the darkness however, and stunned us where we all stood. I have never seen Algiers perform and had no idea what to expect, but that voice genuinely surprised me. Their sound, a mixture of gospel, even reaching back to old spiritual songs, combined with punk and trance was a combination that surprisingly worked well. Their set breezed by and before we all knew it, their stage setup was being broken down and prepared for Young Fathers.
The three men walked onstage in quick succession, with barely the outlines of their bodies visible to the crowd. Suddenly a stark white background cast their frames into view. A drummer standing in the background furiously and passionately pounded on his drum kit while the Scotland-based trio of Alloysious Massaquoi, Kayus Bankole and "G" Hastings took no mercy on the crowd in front of them. From start to finish the energy level remained high, primed to facilitate pockets of dancing throughout the night. Running through selections from Dead, White Men Are Black Men Too, and Cocoa Sugar, it was hard to find a moment to catch your breath. Their stage performance moved like a well-oiled machine.  It was spectacular to watch their backdrop change colors in perfect time with the mood of the songs, and each member's personality shined through.  Before their set, someone asked me to describe their sound, and I stammered through "hip-hop…maybe…and sorta alternative…maybe??" Their genre-bending sound was on full display this evening, and I've never seen them in better form.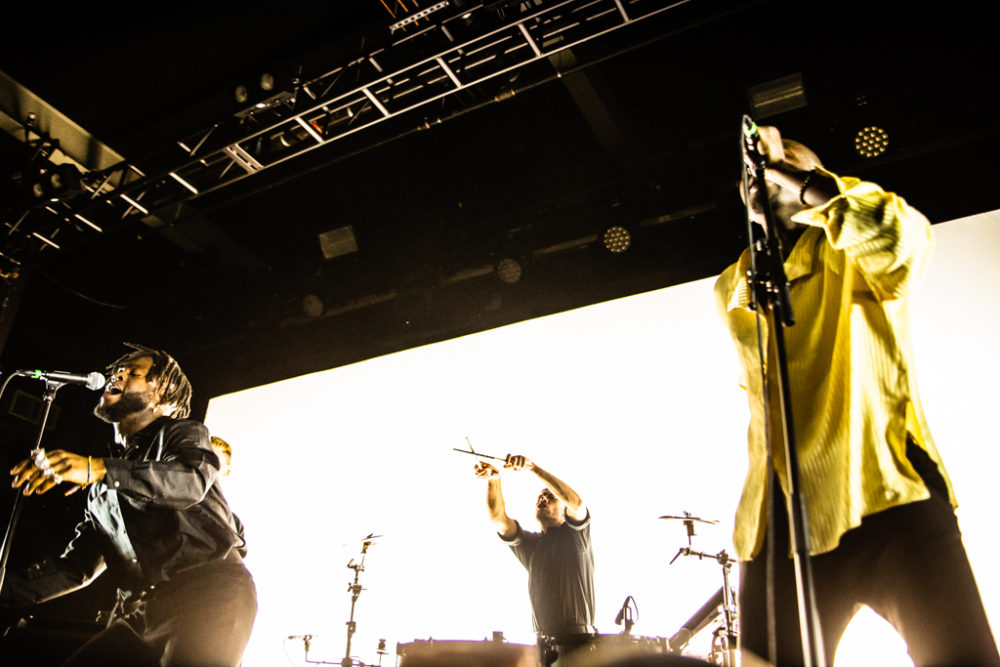 Stopping only to address the crowd through loud shouts of "Brooklyn!! Do you want to dance?!" the vibes kept building and building, with Kayus stripping down to a net tank top and Alloysious unbuttoning quite a few buttons on his shirt. Sweaty, pulsating energy wove its way through the crowd and as the last note played, the crowd begged for more.
Article: Lesley Keller