Siren of cynicism, Amanda Palmer, played the second of two under the radar warmup shows in the intimate surroundings of Joe's Pub before starting her new global tour at much larger theaters in March supporting her new album There Will Be No Intermission. Luckily, there was an intermission, as the show went on for almost three and a half hours, and much to everyone's delight, the performance was pure, unfiltered Amanda Palmer, playing totally solo and sans band, as she embraced the audience with many deeply vivid (and often very sad) stories about her life and career. Early on in the show, while she was explaining how the performance would go down, she asked if anyone in attendance had been to the previous night's performance, and after one fan enthusiastically shouted out "YES!," she asked what she thought, and she said "IT WAS FUCKING DEPRESSING," to which she admitted to the packed room "Yes, this will be the most fucking depressing show you can see in anywhere New York." Palmer fans are no stranger to her darkly revealing rants and deeply raw and emotional stories she pulls out at the most unexpected moments. Luckily, the show was seemingly invite-only, so it was full of serious fans and close friends that were undoubtedly more than ready for her type of caustic humor and deeply enlightening storytelling.
She discussed a variety of subject matter over the course of the night, all told with great empathy and deep introspection. Repeatedly, she delved deeply into her experiences with abortion and pregnancy, and how those events shaped her life and her perspectives. This was especially appropriate as much of the narrative tended to center around the life and death she's experience in her existence. She also got into the controversies she has experienced throughout her career, as her openly acerbic wit has ruffled a fair number of feathers, from her time with her band The Dresden Dolls pissing off feminists for making light of date-rape in a song (they clearly didn't get the point), to just recently being called racist after making fun of Taylor Swift's "goth transformation" from which she's getting a fair amount of liberal outrage backlash online. She is no stranger to controversy, but after seeing her perform live, it's pretty obvious to anyone that she is a very open book, sometimes to an almost painful level.
Of course she mostly played songs from her new album, like "Judy Blume," "Bigger on the Inside," and "Machete." She did stuff in "Oasis" and "Runs in the Family" from her solo debut Who Killed Amanda Palmer from back in 2008, and she also did pull out some rare tracks she unearthed from the various momentous events in her life, as well as tracks she composed for her Patreon supporters. She did keep offering to play The Dresden Dolls single "Coin-Operated Boy" as a depression-cleanser whenever someone called for it, but when someone did cry for it, she gave the additional options on Radiohead's "Creep" or one of my favs "In My Mind," and the crowd opted for the latter, which she played on her ukulele as she walked through the audience.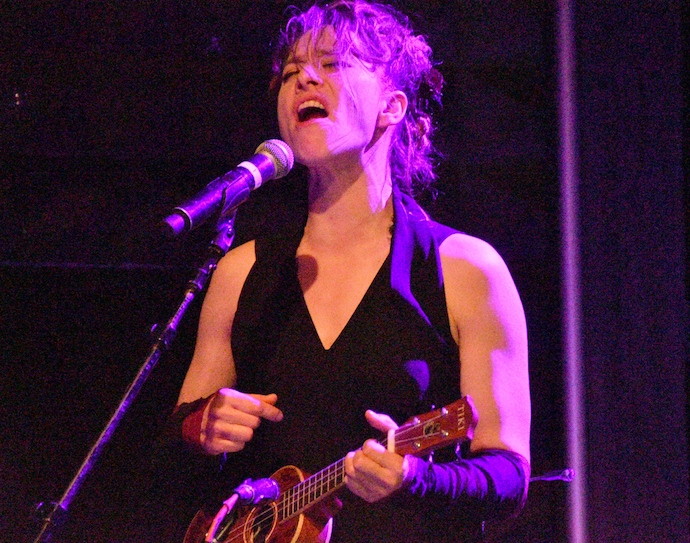 The show may have gone from 9:30 all the way to Joe's 1AM curfew, but I must say, Amanda Palmer is so fucking captivating, I felt it impossible to pull myself away. I was being drawn into the rocks with her enchanting charisma and hilariously sarcastic storytelling abilities. I cannot suggest strongly enough that you go out and see her live. Everyone should become spellbound by seeing this amazing master musician and pontificator on stage. Luckily for all of you who missed out on these great shows, she will be playing the glorious Beacon Theatre on the rather fitting date of 4/20, so don't miss out on this mesmerizingly gut-wrenching show.
Article: Dean Keim