I caught the iconic 90's alt rock trio Sebadoh as they landed at the newly renovated Asbury Lanes on the Jersey shore for their last show of their first tour in several years. They had been touring in support of their first LP in over six years called Act Surprised, an apt name for an album that proved to be an unexpected delight.  This disc is validation of all the best ideals of that early 90's post-punk, low-fi, and garage rock goodness, and I just can't stop playing it on repeat. This is a band that played an integral roll in the rise of the grunge sound in the late 80's and early 90's, and it proves to be a sublime return to form for these indie legends, and I'm glad they are still forging that path for all of us rock n' roll sinners.
The band originally started in the late 80's as a way for Dinosaur Jr. bassist Lou Barlow to channel more of his own vocal material, but by the mid 90's it became far more than just a side project. However, by the turn of the century, it had become only an occasional and sporadic live moniker for these guys, and they only released one other album in the last two decades of random touring. Meanwhile, Dinosaur Jr. has been an insanely busy playing everywhere in the last several years, and it has been hard not to at least stumble on one of their shows lately. However, Barlow recently moved back to his old Western Massachusetts stomping grounds not too long ago, and apparently he reconnected with his old band mates Jason Lowenstein and Bob D'Amico, and sure enough they ended up really reviving that spark they ignited so many years ago in the studio.
Singer/songwriter and ex-Fiery Furnaces singer Eleanor Friedberger opened the show with a one-woman solo set. It was the first time I had seen her without a backing band, and sometimes during the set it showed, as she stumbled a few times. Still, her desire to push the envelope and become more than her folksy contemporaries is admirable, and her wonderfully synthy playfulness was in full display throughout. I loved hearing some of my favorites of her tracks like "Stare At The Sun" and "He Didn't Mention His Mother," and she he did play a couple of old Fiery Furnaces songs to boot.
Sebadoh's set definitely had that last show of the tour appeal, as Barlow commented a couple of times his voice might be finally going, and there was an air of "no fucks left to give," but the glow of three old friends really coming back together after so long apart really kept the show glow burning bright. Lou's cohort in crime (and dueling frontman) bassist Jason Lowenstein was also in Fiery Furnaces, and I half expected the two to pop on stage together at one point, but sadly that didn't happen. Still, his off-brand sense of humor and straight sailing rock attitude has a vital part of the whole night working at all. The two rockers switched roles on the lead vocals, guitars, and bass many times over the night and it was awesome to see these two often unsung rock heroes play off each other so well. Their set was heavy on the new material up front, but by the end they poured out the classics like "Soul and Fire," "Magnet's Coil," and "Skull." I'm so glad I didn't miss these rock legends this time around, and I hope they do it all again very soon.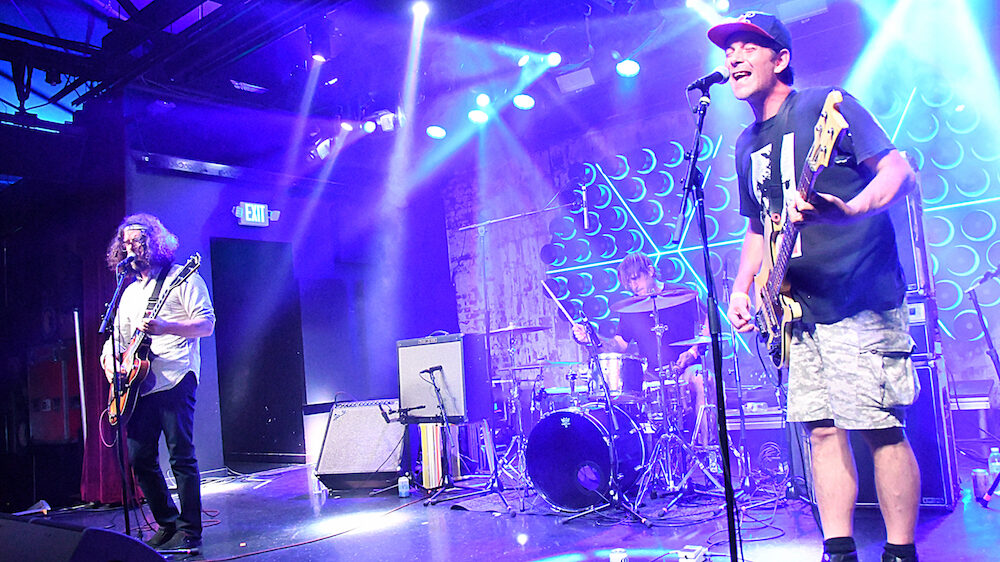 Article: Dean Keim