The classic genre-busting prog-rocking swooners Roxy Music brought their 50th Anniversary Tour to NYC's Madison Square Garden on Tuesday; half a century after the release of their first self-titled debut album back in 1972, which was also the same year they first played MSG (opening for Jethro Tull in December of that year). On this tour, we have the OG members of vocalist Bryan Ferry, guitarist Phil Manzanera, saxophonist Andy Mackay, and drummer Paul Thompson out on the road one last time. They came out to play together for the first time since being inducted into the Rock N' Roll Hall of Fame in 2019 across the East River at Brooklyn's Barclays Center, and apart from some random touring and new album teasing in the early 00's, the band has largely been inactive since breaking up way back in 1982. Since then, the band has built up an insanely large cult popularity that has only grown larger in recent years with many of their songs appearing in movies and series esepcially. Additionally, members of the band have more or less confirmed that this will indeed be the last proper Roxy tour, so this is an especially momentous event that I desperately needed to catch after being a fan for ages and having sadly missed that previous reunion tour.   
Roxy Music were always a hard band to explain, as they often travelled the more surreal zones between different worlds, realities, and genres. They were a progressive rock band for that kind of distinctive unpredictability and artiness, but they were also one of the kings of the glam rock scene, as they would often play off themes of rocking masculinity and swooning femininity while also gender-bending in makeup and outrageous costuming. They were smooth jazz one minute, and they were thrashing rockers the next, but they were never easy to pin down. Their lead singer Bryan Ferry had the smooth, quivering voice of a 50's crooner, and whom early on even dressed in leather jackets and heavy hair gel to look the part of a greaser that would have fit well in the show Happy Days or a group like Sha Na Na, but even though the harmonies would often be quite sexily serenading, the music would often trend towards the experimental and absurd, frequently sounding like David Bowie talking all the lead roles in The Rocky Picture Horror Show. Andy Mackay's hypnotizing sax playing would hook you in, Manzanera's brilliant airy guitar playing would take the music into the stratosphere, and then Paul Thompson's drumming would rock you into interstellar space. Synth pioneer Brian Eno was also a member for the first couple of albums and tours, and his deep absurdist soundscapes made a strong impression on the band's sound long after he left to become a celebrated solo artist and super-producer, but he has only very rarely played live since the 70's, so he was definitely not going to be involved this extensive tour. 
Modern pop art singer and guitarist St. Vincent proved to be the perfectly bizarre fit as opener for the show, as she also has a sound and act that prolifically bends genres and genders. She is often publicized for her relationships with celebs like Cara Delevingne, Kristen Stewart, and Carrie Brownstein, but her ample skills as a musician really rises above fray as she wails out a roaring guitar solos, or when she ventures in the worlds between R&B and art rock, sounding like what I'd imagine the artistic spawn of Kate Bush and Prince would sound like. She and her incredibly talented band barreled through a selection of her hits like "Digital Witness" and "Birth in Reverse" while a troop of sexy singers and dancers helped keep the energy high with some cheeky choregraphed moves and grooves while she and her company were all dressed in the 70's waitress/waiter-styled costumes inspired by her album from last year called Daddy's Home, from which she played some real ear-worms like "Pay Your Way in Pain" and the crashing closer of "The Melting of the Sun" that blew the roof off MSG with a truly epic drum solo. Ms. Anne Erin Clark came up through the New York scene about a decade ago, and it was great to see her play some small local venues back in the day, but that makes it even more profound to see her playing this massive show at MSG now. During the show she professed a great love for this city that she calls "home," before launching into her 2017 hit "New York," even though she followed that up with another banger "Los Ageless" from the same album that appropriately seemed a whole other world away.
Roxy Music came out and immediately popped the lid off the joint with the rocking iconic opener to their first album "Re-Make/Re-Model," and while they did play others from that disc like "Ladytron" and "If There Is Something," I was a bit disappointed that the set excluded other early classics like "Virginia Plain" and "2HB," but it was hard to be that upset at a show that really went out of it's way to fill up all the senses and rather evenly tackle the entirety of their 8 album catalogue. They spanned both space and time with gems like "In Every Dream Home a Heartache," "Same Old Scene," "Love Is the Drug," and "Do the Strand,' as well as mega hits off their smoother than silk last album like "More Than This" and the title track "Avalon," and the night also including the instrumental "Tara" from that disc that they dedicated to the recently departed Queen Elizabeth II, with her royal crest projected on the series of big screens above the band. The huge video system that utilized every inch of the stage and screen felt almost 4th wall breaking and gave the whole show the full multi-media exhibitionist art feel you'd expect from these artsy rockers, especially as they leaned into pop art elements like Andy Warhol's portraits exploding all over the stage at one point. The night proved to be a perfect blend of elements and sounds that really felt night a perfect goodbye letter from the love of your life.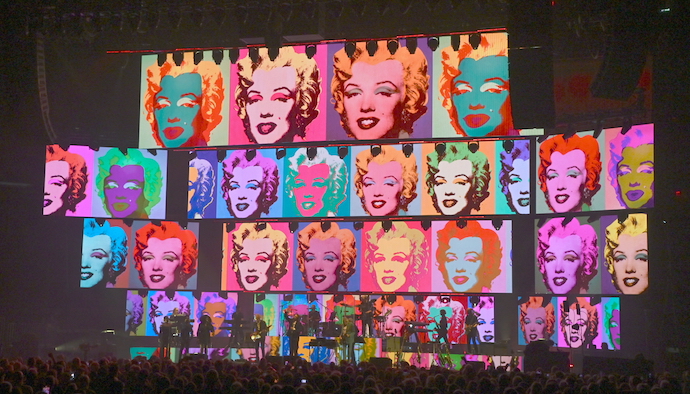 Article/Images: Dean Keim