UK rockers Swervedriver who brought out the hard rock gunpowder to the shoegaze scene back in the early 90's, returned to the NYC area for their fourth local show in the past year to explode all of our minds. Like before, they are still celebrating their first full-length album in seventeen years I Wasn't Born to Lose You, but this time they were backed in grander fashion by a big trippy projected light show and sailing a tighter ship in all of their volatile explosiveness and impulsively loose explorations.
They also brought along an impressive duo of combustible openers this time to help fan up those flames of excitement. First, there was Jersey City's own power trio powder keg of blaring sound Overlake to get things cooking, and they certainly would be a band to please a Swervedriver crowd with their sonically aggressive authentic classic early shoegaze sound. I have had the pleasure of witnessing their sets before, and they never fail to set it off, even in their longer winding jams in which they still manage to stuff full of blaring reverb-heavy axe effects that would make My Bloody Valentine blush and still slide the smooth catchy melodies that could make Yo La Tengo swoon. They may feel like you slipped back into the 90's sometimes, but they make it fit modern times so well you might as well just go with the flow and just adore the slow burn.
Then there was the expansive Toronto monster rocker of a band called Dearly Beloved – who showed how the Great White North can cook up the pop, punk, and psych into a potent and intoxicating brew. Out of the many members in their ranks that crowd the stage – the nimble-fingered bass of Rob Higgins certainly does stand out as a fiery frontman, but what takes it beyond what would be a somewhat more straightforward sonically intoxicant jam rock-type cocktail is the presence of some exotic female prowess in the form of Niva Chow who spreads out the soundscape with some seriously spooky Theremin sound crafting and some seriously wild onstage energy. I couldn't help equate the heady result with fellow Canadian outfits like Arcade Fire and Broken Social Scene, but they do carry a unique presence with a punkier edge, and one that brings on the unadulterated wacky fun with their on-stage presence, from Niva shooting bubble guns all over the place, to both her and Rob getting down into the crowd to wrangle the audience into a frenzy towards the end.
Swervedriver have had quite the legacy to live up to these days, especially as influential as classic shoegaze has become in modern rock music today, but they still manage to show all those new disciples how reap the rewards of blazing hard rocking jams. Their founding guitarists Adam Franklin and Jimmy Hartridge are still in command of those blaring acoustics that melt faces and recent additions of Paul Dillon on bass and Mikey Jones on drums help propel their winding rhythms. They clearly all have jelled into a powerful unit by this point, creating a gorgeously ethereal sonic experience to behold.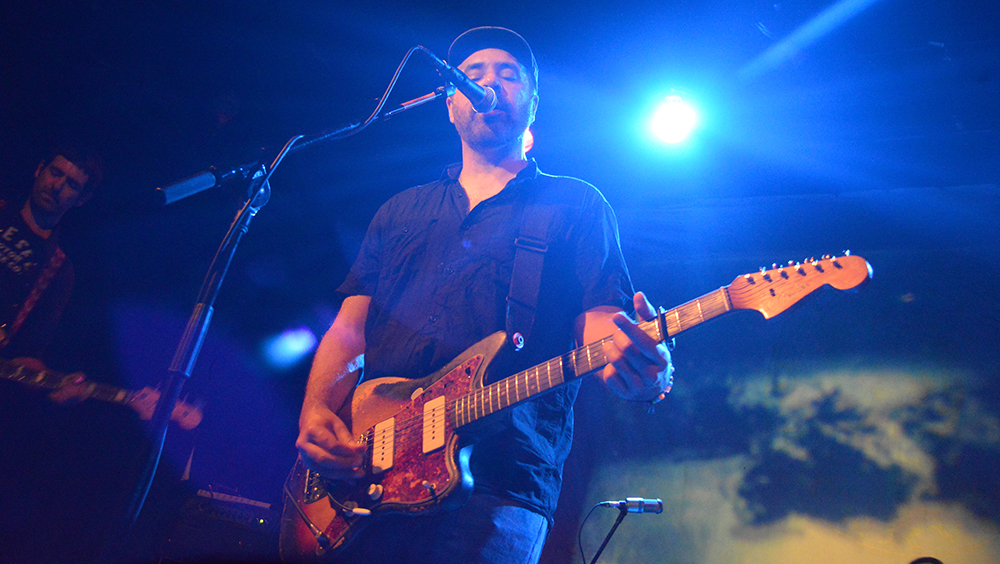 Article: Dean Keim