I don't know what band it was that I first learned about show taping, but I suspect it was the Allman Brothers. There is no finer icon of live music than At Fillmore East, and after a lengthy discussion on the matter, a friend told me that a relative (Father, maybe Uncle) had tapes of concerts he had been to. Interest piqued, I began to look up shows I had been to and legacy shows from the time before I was born.
Whether it was Dylan's four hour show at Toad's Place — you know the one where he slurs his way through Springsteen's "Dancing in the Dark" — or the many, many, many different versions of "American Blues" that the Dead played throughout their illustrious career, show tapes are the super food for super fans.
And that's where nugs.net comes in. It fills position of the bootlegger for the 21st century. They were already handling the live music distribution for major touring acts like Phish, Pearl Jam, and Bruce Springsteen, which means that they easily moved into a subscription service format. The plan is 12.99 a month, or 129.99 a  year for unlimited access, or you can go with the free option that includes a "rotating selection of featured shows, plus a free stream of nugs.net radio, a 24 x 7 playlist of cherry-picked live tracks."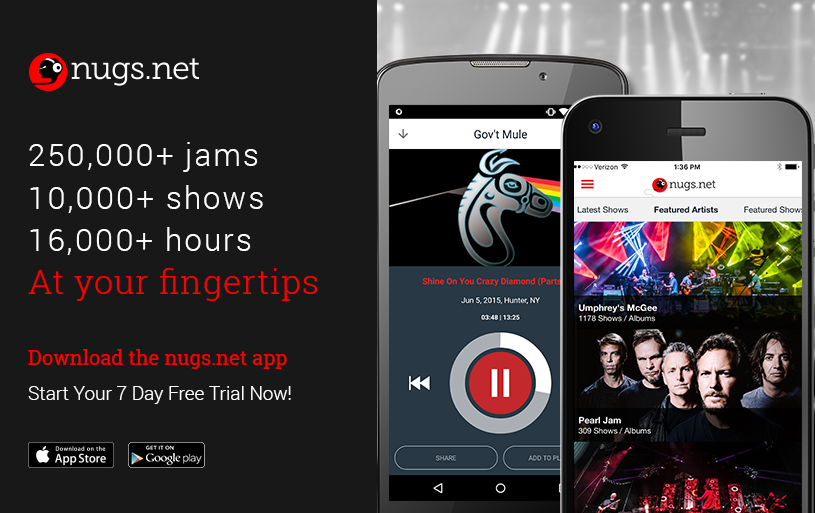 So if you were looking for a way to support your favorite touring acts, and to hear every note they played, then head on over to nugs.net. The launch of the streaming service will feature Halloween sets from Phil Lesh, Umphrey's McGee and Widespread Panic in addition to a few dozen more from Halloween's past.
Article: Christopher Gilson