In the moments leading up to their set time, the six members of Kopecky were in and out of sight.  Tuning up, testing mics and moving their equipment around Johnny Brenda's last Tuesday night (12-08-15), they spoke and laughed amongst themselves as the Stones classic "All Down The Line" rushed through the overhead speakers and pushed through the crowd. Excluding the shock of light fixed on the stage, the Philadelphia bar was dimly lit, making it seem as though anyone who walked in front of the drum kit had momentarily stepped in front of the moon.  Although within minutes, the band and their crew had dispersed and the once blaring house lights dimmed, casting shadows on the instruments that had been left to lean against amps.  Reappearing to take the stage a short time later, Corey Oxendine, David Krohn, Markus Midkiff, Steven Holmes, Kelsey Kopecky and Gabe Simon were all greeted by a burst of applause that was quickly silenced by the opening notes of "Die Young."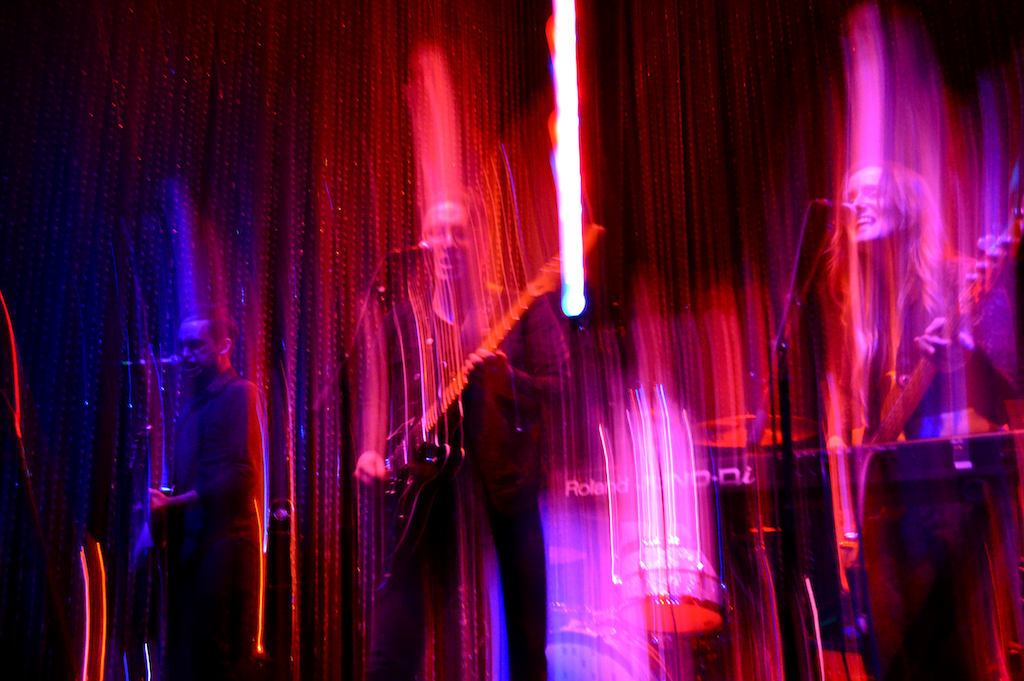 Since forming in 2007, the band has continually stitched together a vast assortment of different textures and styles.  And though their sound and scope has deepened with the release of each new collection, The Disaster, Of Epic Proportions, Kids Raising Kids and Drug For The Modern Age are all driven by a stirring combination of muscle and heart.  Bringing that same emotion and power all the way to the City of Brotherly Love, the Nashville based band repeatedly switched instruments and moved around the cramped stage, ensuring that the kinetic atmosphere of their records was alive and thriving.
Delivering a spirited performance that stretched passed midnight, Kopecky's unwavering energy had managed to match the vividness of their surroundings.  Playing with their backs to a curtain that was nearly hidden by a layer of small beads that hung overtop, the band was also framed by a vertical row of circular lights that resembled those you'd find at a crosswalk.  Tearing through a set that included fan favorites like "Hope," "Are You Listening" and "Talk To Me," their very movements appeared to blur as they sprung up and down, glowing from the crimson colored lights that surrounded them.
Exhibiting a palpable chemistry and polish, their live show is a strong reminder of the sheer number of their songs that double as a shot of pure adrenaline.  And while the sing-a-longs that broke out for songs like "Quarterback" contained enough strength to have physically nudged the audience forward, it was another Drug For The Modern Age track that most memorably showcased their precision for McCartney style blasts of luminous pop rock.  Trading vocals on the song, a particularly vibrant rendition of "My Love," Kopecky and Simon's voices blended beautifully, gliding above the melody and flooding throughout the venue.  And by adding depth and warmth to an entire set of arresting arrangements, the band preserved the introspective nature of their lyrics without weakening one shade of musical brightness.
Article: Caitlin Phillips