[soundcloud url="https://api.soundcloud.com/playlists/174049128″ params="color=ff5500&auto_play=false&hide_related=false&show_comments=true&show_user=true&show_reposts=false" width="100%" height="450″ iframe="true" /]
We are excited to bring you this full album stream from DARIUSTX called "Dariustx V. The Angels Of Goliad." The 17-track album is robust and adventurous that touches upon genres such as Americana, folk, country and good ole' rock n roll. Be sure to check out the track-by-track info below for a little backstory on each song from Darius Holbert.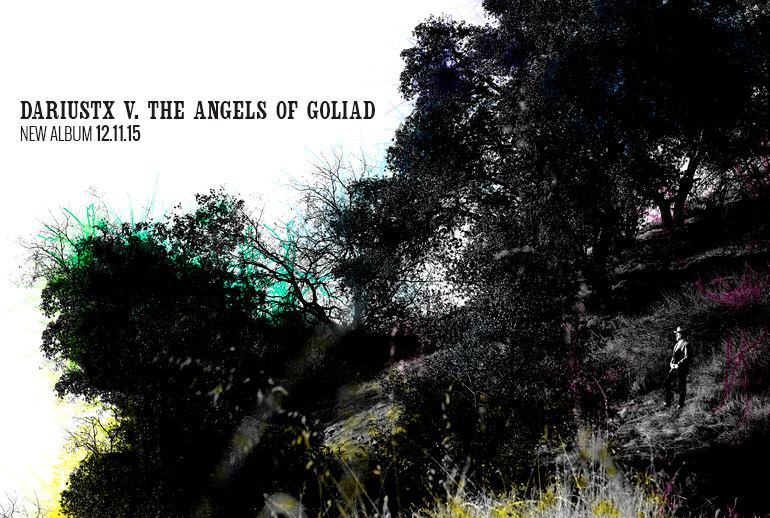 TRACK-BY-TRACK:
In the Shadow of the Death-Bird's Wing – This song is mostly about the time I got commissioned to write an opera and went stone crazy writing it in a cabin in the mountains of northern New Mexico.
The Dirge – I wrote this in 20 minutes on the very last day of recording.  I've spent years on much worse songs.
Dark Blues – This song is basically a vehicle for me to sing that when I say Louisiana I don't mean New Orleans. (Southwest Louisiana is a totally different planet, for the record)
Wildfire Waltz – This is a sweet song, and Nicole's harmonies sound so great.
Back of Beyond – this is a weird joint that just kept getting weirder in the studio, and now I'm totally in to it.
El Dream Canción – I actually did dream this song, got up and wrote it all down almost exactly as you hear it now.
Brokedown Junk – This was inspired by an Entertainment Chronicle piece written about me a long time ago.
A Good Horse – nothing wrong with a little American muscle.
Ma Petite Chère – this is my take on a classic Cajun waltz.
West TX Moon – I built out the orchestral parts of this song much later – it started off as a quiet solo piano tune.
Godmother Erline's Kitchen – this is homage to my actual Godmother Erline in Lake Charles, LA, who has quite a kitchen.
Dancing Shoes – The hook lyrics are paraphrased (stolen) from correspondence from Goethe to his lover. Matt Bowen's fiddle part is stellar.
Way Back When (Original) – [explicit] – this song also appears in different form on another album of mine.  This version is considerably closer to how it was originally written, but unless you were at a Temple Bar showcase in 2002, you never heard it like this til now.
Walk These Floors – I wanted a song where all 3 vocalists could sing 3 part harmonies through the whole track; Nicole and Caroline blend so beautifully.
Paris – [explicit] – This was actually written in a hotel room in Paris at 5am.  It's probably the most autobiographical song on the album.
Those Wildest Minutes With You – I wanted to write a quasi love song about good friends separated by death after playing for the troops in Iraq in 2011.
Goodnight, Buckaroo – this was written by my wife and me during Hurricane Sandy in our NYC apartment with no power or heat, while she was pregnant with our 1st daughter