Recorded live in just four days, the second album from Nap Eyes has an ingrained softness and restraint that allows the music to breathe.  And while it is somewhat unusual for a collection to be completely absent of overdubs, the band's preferred recipe on Thought Rock Fish Scale lends a flavor to each track that is punchy and raw, consistently making it feel as though they are in the room with you.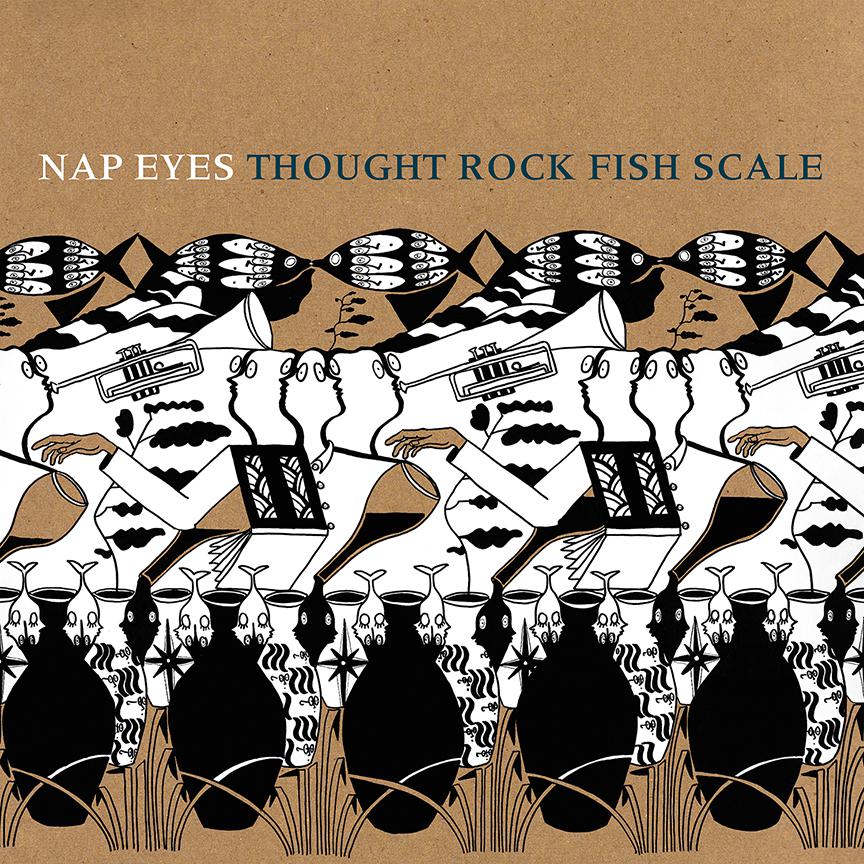 Forging a pensive, earnest tone over the course of eight songs, lead guitarist Brad Loughead, drummer Seamus Dalton, bassist Josh Salter and guitarist/vocalist Nigel Chapman all manage to successfully enhance and broaden the record's somber mood rather than drown in it.  Heavily melodic and feeling surprisingly sweeping at times, the group works together to construct verses and choruses where every note feels carefully chosen and integral to the arrangement.  Chapman's rough edged voice becomes especially hypnotizing as it swells and drifts above the music, adding depth with every subtle twinge of emotion and simple change in pitch.  Although what remains most compelling is the way that guitar, bass and drums come together to form the perfect cushion, guaranteeing that his voice always lands gently.
Lending personality and feeling to highly sensory lyrics, the Nova Scotia based band floats through album opener "Mixer" with an energy that builds.  Concentrated and wistful, each measure comes alive with a melody that is bittersweet and entirely engrossing.  And though songs like "Stargazer" and "Don't Be Right," continue to find the music cresting like waves in the surf, the discipline required to create a template where less is more doesn't feel repetitious or slow moving.  Instead, the album's steady pace feels nurtured and unflappable, creating a serene atmosphere that remains unbroken even when the band's playing becomes more aggressive.  Although most joyful are the moments when the music takes you completely by surprise, with songs like "Click Clack" and "Trust" having unexpected twists and turns that can make them each feel like three songs rolled into one.  And by highlighting an assortment of textures and themes, Thought Rock Fish Scale is a thoroughly enjoyable record that is meant to be savored.
[soundcloud url="https://api.soundcloud.com/tracks/206742150″ params="color=ff5500&auto_play=false&hide_related=false&show_comments=true&show_user=true&show_reposts=false" width="100%" height="166″ iframe="true" /]
Thought Rock Fish Scale is available now
Don't Miss Nap Eyes in New York at Brooklyn's Union Pool on 3/9 and Philadelphia's Boot & Saddle on 3/10
Article: Caitlin Phillips