In the effort of never missing a High Waisted party, I made my way over the river to Hoboken to Pier 13. Okay, I know what some of you are thinking; "why go to Jersey?" How about the magnificent views of Manhattan, a Beer Garden on a Pier, cold brews from Sweetwater Brewing Company and live music from NYC's party-est party band in High Waisted. Add in tons of food trucks, a less crowded scene and it's really a winning combination.
Arriving to the pier I was introduced to the Sweetwater Brewing company reps, and they immediately hooked me up with some drink tickets which I turned in for their newest creation called "Goin' Coastal IPA," which for someone that doesn't generally hold IPA's in high-regards, was impressive with just the right touch of pineapple and a slight bitter finish. It's one of the best seasonal beers I've ever had, and pretty much perfect for the summer time.
Cold brew in hand and with the Hudson breeze making a 88 degree day seem like 75 – Brooklyn rockers Boytoy gave us a solid 30 minute set of lo-fi goodness.
As soon as High Waisted started to play their catchy surf-rock tunes, is when the party really started and a crowd started to form. Playing select tunes off their debut album On Ludlow and a few surf covers, they really brought the party vibe to the vibrant pier.
Amongst the attendees were some younger kids, who's parents were cool enough to bring them and they were a boost of energy to the band/crowd. By the end of the show the lil' rockers were invited to dance with the band, and it still rings true that kids know whats good in life, and they certainly embraced one of the city's premiere live bands.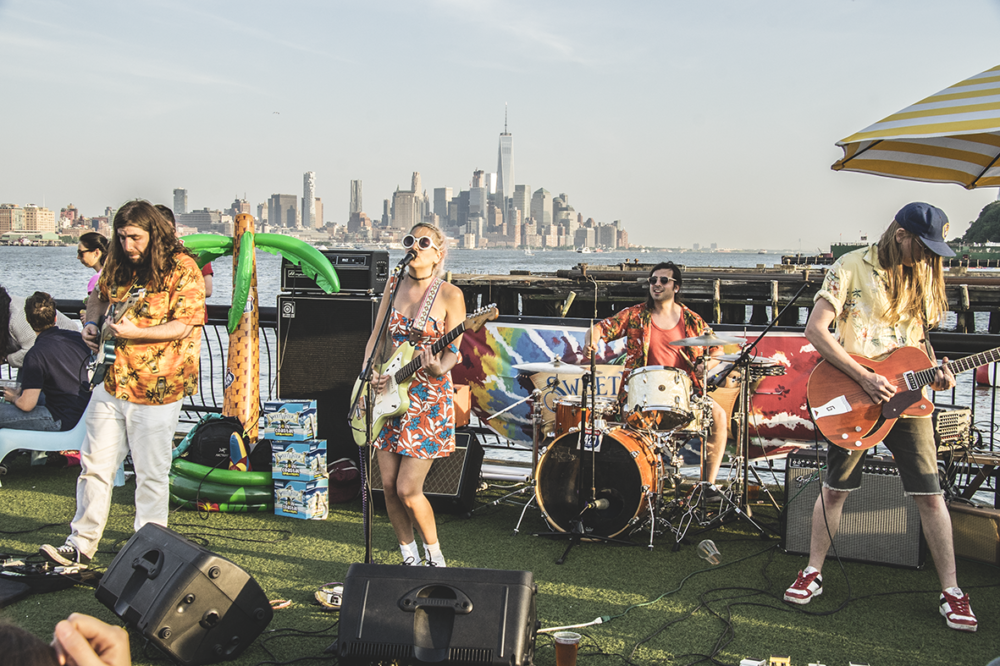 Word is the 3rd annual High Waisted At Sea event details will be coming soon, and we'll be sure to share that news here.
Article: Shayne Hanley