Following an increasingly muddy downpour during yesterday's Governors Ball activities, Day 3 of the festival (Today, Sunday, June 5th) has now officially been cancelled. Fans will unfortunately be missing out on headliners Kanye West and Death Cab For Cutie, as well as acts like Gary Clark Jr., Two Door Cinema Club, and surprise guests Prophets of Rage, who were all scheduled to perform today.
Fans were first made aware of a change in plans via an official announcement that went out at 8:50am, stating that doors had been delayed and no one should make their way out to Randalls Island until further notice. At 12:15pm, the following update was posted on the Governors Ball website:
"Sunday, June 5th of Gov Ball 2016 has officially been cancelled, due to severe weather and a high likelihood of lightning in the area. The safety of fans, artists and crew always comes first."
According to the full announcement, all customers who purchased a Sunday ticket/Sunday transportation ticket will be refunded in full. Those who purchased 3-day passes will receive a prorated refund.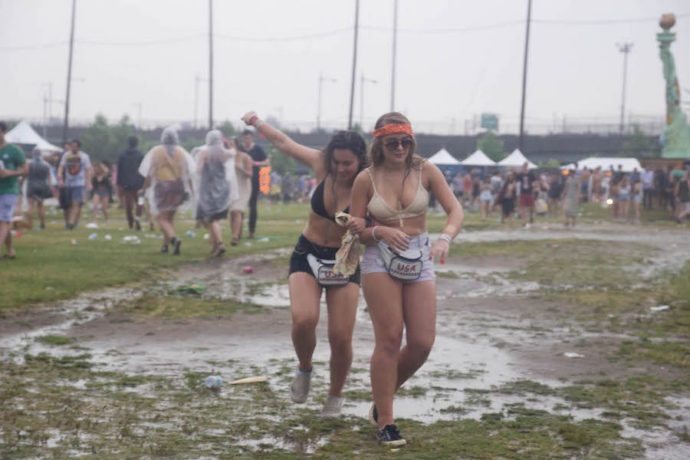 Below are the acts that were scheduled to appear today:
Govballnyc Stage:
11:55 AM TOR MILLER
1:10 PM BETTY WHO
2:40 PM COLD WAR KIDS
4:25 PM CHVRCHES
7:00 PM TWO DOOR CINEMA CLUB
9:15 PM KANYE WEST
Bacardi House Stage:
12:25 PM DAY WAVE
1:55 PM BAT FOR LASHES
3:25 PM VIC MENSA
5:25 PM GALANTIS
6:30 PM PROPHETS OF RAGE
8:05 PM THOMAS JACK
Honda Stage:
11:55 AM BLANK RANGE
1:10 PM WHILK & MISKY
2:40 PM VINCE STAPLES
4:25 PM JOEY BADA$$
6:50 PM GARY CLARK JR.
9:15 PM DEATH CAB FOR CUTIE
Big Apple Stage:
12:25 PM WHITNEY
1:55 PM FIDLAR
3:25 PM EAGLES OF DEATH METAL
5:25 PM COURTNEY BARNETT
8:00 PM CHET FAKER
Photos: Merissa Blitz