When your trip is perfect and you pull up to Bonnaroo, check in, get your car searched and set up camp with ease fairly close to an entrance, life is perfect. You kick back, have a beer and meet your neighbors. You go into Centeroo and check the lay of the land and see what new art installations are in or what old ones were brought back into the fold. You might run into an old friend or people you only see at Bonnaroo each year and embrace in such a way that only a music festival can make people embrace. You begin to see strange costumes and people heading to the tents for the opening round of music on Thursday. Then the first notes of the festival happen, and in my case my weekend ended in the way I had imagined it would be all weekend long covering the festival. My camera broke and just wouldn't do anything. Lucky for me after the first two acts of the day, Shayne, our wonderful EIC, had an extra camera body that happened to fit my lenses and I was back at it. With lots of deep breaths Bonnaroo didn't defeat me and I trekked onward to do the best I could.
While I was quite distracted during the first two acts of the day, Lany opened up Bonnaroo at This Tent with a fun set of pop-rock that saw many rush over to get under the tent for some shade and to start their journey for the weekend. 15 minutes later at That Tent Con Brio felt like the real start to the fest. With an energetic funky soulful set of music, Ziek and company had the constantly growing crowd going wild and one of the largest I can remember on such an early slot on Thursday. Walking through the grounds the rest of the day I continued to hear people talk about his set as a major highlight of the day.
Waxahatchee started their set by dedicating it to the survivor of the Stanford rape case because frontwoman Katie Crutchfield said "it's important not to forget that she is surviving out there and that Brock Turner is a rapist and it doesn't matter what else he has done." With that being said the crowd roared in approval and they tore into a solid set as the day slowly started to cool off finally. The London Souls played a rocking set that had the crowd going wild for them and set the stage for what would come next at That Tent. While Bonnaroo might not be for the jamband fans, you wouldn't know it passing by Papadosio's set. The crowd was impossible to navigate around and seemed to stretch on forever surrounding That Tent. The set started late as there were some equipment issues, but once they got going it was a funky jam heavy set that the crowd ate up. The sun began to set as they tore through their hour and the temperature really began to cool off and the relief on everyone's face was one of pure joy and excitement.
Vulfpeck was easily one of the most anticipated sets of the night and the boisterous crowd couldn't contain their excitement for the band as they stepped on the stage. The four piece funk band had nothing but good vibes to bring to the farm and played an absolutely glorious hour of music that never seemed to stop. The band was clearly having fun on stage, switching instruments, getting the crowd to sing a long, and they kept the Bonnaroo tradition of sit-ins taking place with Børns coming up for "Back Pocket." A very funky take on The Band's "Up on Cripple Creek" soon followed. Their set went by far too fast and another hour wouldn't have been a terrible thing to have to watch on opening night.
Marian Hill's set followed and had a young and loud crowd on the rail and packing the rest of That Tent. Her brand of pop music is dark and this was underscored immediately with a somber take on "I Wanna Dance with Somebody." The Floozies were one of the last bands standing on the evening and had quite the light show and a great crowd surrounding This Tent. Many people though went into the Cinema Tent to watch the quote and sing-a-long to ¡Three Amigos!. After the movie was over the crowd knew we were going to have a celebration birthday party for El Guapo, the villain of the movie. What they didn't know was that we were going to be served burritos, margaritas, smash piñatas, and have a band, Tres Amigos, play Mexican style music for us. It was a great way to end the beginning of Bonnaroo with three more days of hot temperatures and plenty of bands to look forward to.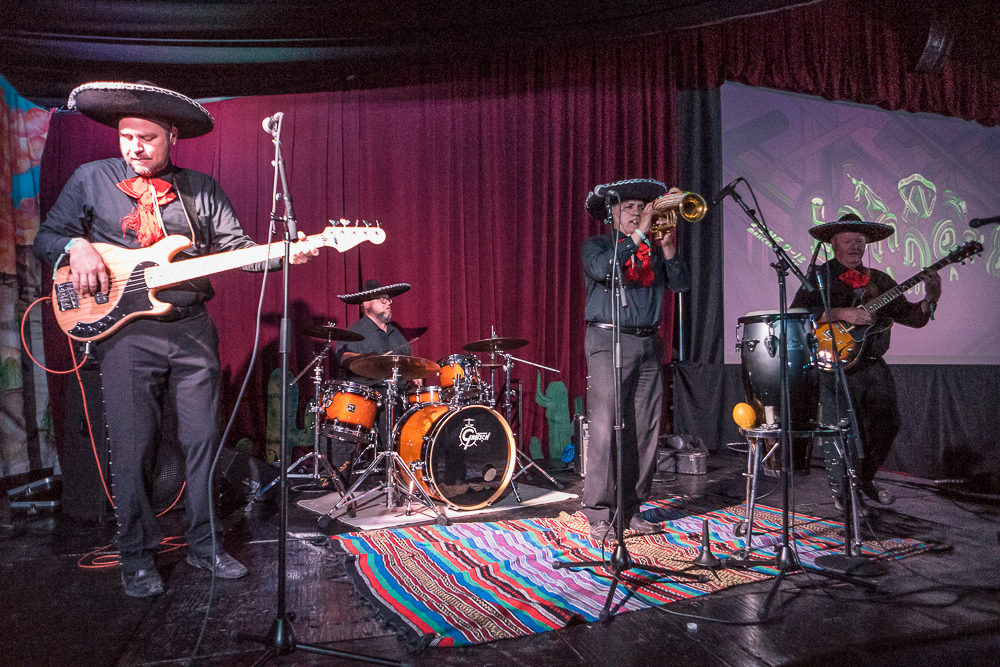 Article: Bryan Lasky