"Resistance absolutely works," said Katie Alice Greer, lead singer of the DC political post-punk band Priests at their show on Saturday. The band's performance coincidentally came a day after Trump's surprise travel ban involving seven Muslim nations, an executive order that enraged our country and proved to be a firestorm that continues to sweep across the world. This show was supposed to be the release unveiling of their awesome debut full-length LP Nothing Feels Natural, but also in keeping with their activist stance, $1 from every ticket was donated to Casa Ruby which supports the most defenseless of the Washington, DC-area LGBT community. It just so happened that this show landed on a day when we were all in such distress over what was happening, and Priests proved to be just what many of us needed to feel energized and empowered in the face of atrocious repression.
This was the first show I had experienced at the new Brooklyn Night Bazaar, which moved to its present Greenpoint location last year from a big Brooklyn warehouse spot further south. The reinvented venue lacks the diversity of foods and vendors that filled the old location not to mention the absence of the deluxe stage for bands featuring artsy light shows and the adamant sound guys buzzing around the venue with their iPads making sure everything sounded as perfect as possible. Still, the new digs are stylish with a cool retro art deco touch to what was formerly a multi-room Polish party hall. It now sports table tennis, many video games, big comfy chairs, a groovy downstairs dance lounge, and a sizable restaurant and bar side space. So, it's not quite as much as a big bazaar as it was before, but everything was more decked out than anyone could hope for from any kind of NYC music venue.
A band I don't know too much about by the name of Juicy II opened the show with an assault of static, distortion, and screaming that lasted less than a jiffy 15 minutes before the band abruptly aborted the stage. Next was a Baltimore trio I had luckily caught before by the name of Snail Mail, whom I enjoy with an almost disturbing zeal. They set off to a rocky start for their first show opening for their Sister Polygon label-mates Priests. Sadly the main mic didn't work, and after they waited a dog's age for some tech assistance, they were just about to leave the stage before their sound was thankfully restored life at the very last minute. It took so long to get it all straightened out that the lead singer and guitarist started their set by saying, "Hi, we're Priests." So, after that they were beset by chronic sound and equipment problems I don't even blame them for just saying "Fuck IT" and just playing wildly out of tune through the remainder of their set. You can always tell the vigor of a band by how they can shake problems like that off, and these three clearly have the right stuff to shake it off and rock it out. Besides, their last album Thinning was pure gold with its raw yet lush Best Coast meets Rainer Maria sound, so you really should give them a gander sometime real soon.
When Priests took the stage to much rowdy cheering, Katie Alice Greer, as always, stunned me with her style choices, this time dressed up in a perfect Annie Hall-styled high-wasted slacks and collared shirt getup. Considering that the last time I saw her she had an S&M leather meets stars-and-stripes arrangement, and the time before that she was decked out in a 50's bombshell ball dress complete with bright red haired beehive hairdo and intimidating stiletto heels, she always seems to have a fashion surprise for her audience. Still, to hell with vogue-ish appearances, as Priests are all about the decry of fad, convention, and corporate America, and their lead singer's good looks are far from the rebel anarchist creation they're selling. With the new album they have somewhat moved on from their staunch DIY stances, even setting up a Facebook page, which is something they had long resisted doing. The newer stuff certainly showed signs of growth, like a little less Bikini Kill and a bit more of a Sleater Kinney, with Katie's thunderous growl was still on full display but now sporting much more melody and a little less straight up scream. Still full of the steely surf guitar of Gideon Jaguar and disembodied rhythms of bassist Taylor Mulitz and drummer (and occasional frontwoman) Daniele Daniele, but the end result feels far more full and realized and less raw and low-fi.
Their set was the new LP Nothing Feels Natural performed in its entirety, with some stuff like "Doctor" and "And Breeding" off 2014's Bodies and Control and Money and Power EP played between side A and B that caused a sweaty commotion on the packed floor. This was also the point in which Katie revealed the good news, "If you haven't had the chance to check the news tonight, a federal judge put a freeze—a stay—so that the executive order to ban Muslims from our country would be frozen for today. It's amazing. It's not forever, but it's a huge thing that happened. Donate to the ACLU. You can also donate to the Council On American Islamic Relations. They do fantastic work." The first half was full of the catchier, progressive, and more up-beat parts of the LP, like "Appropriate" and "JJ" was followed by the second half that is packed with darker and more revolutionary tracks like "Nothing Feels Natural" and especially "Pink White House" that really made you angry enough to aggressively mosh your brains out and perhaps cause some anarchy of your own. Much like the recent marches, this show produced a feeling of elation at experiencing you're not the only one terrified at what is happening, and finding strength and volume through alongside of your proud fellow citizen. It's as though the people of the US have died as consumers and been reborn as citizens.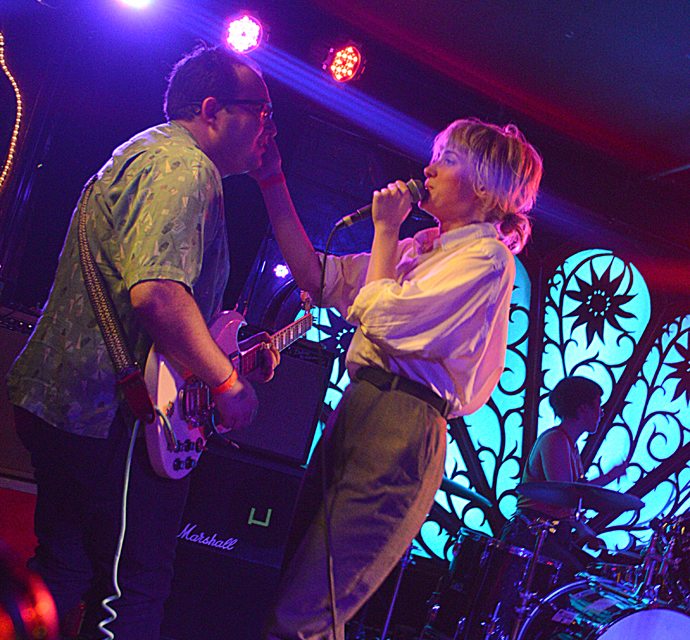 Article: Dean Keim