Most routes to Saint Vitus – the endearingly satanic bar hidden just off the Pulaski Bridge, the small skyway that connects Long Island City to Greenpoint – involve a bit of extra walking or train-hopping, in a part of Greater NYC that feels oddly remote. But for the city's underground populace of hardcore and metal fans, it's a reliably-rowdy spot that is well worth the hike – especially for a headliner like Girl Band, all the way in from Dublin. The much-loved Irish rockers quickly sold out the venue (on a Monday night, no less) and packed the small, dark space with two types of concertgoers: the ones who had worn combat boots and packed Neosporin, and the ones who were about to find out why.
But even with key moshers in position and already double-fisting sticky drinks (one to chug and one to throw, presumably), the vibe was far from violent at Saint Vitus when the evening began. The crowd was in serious need of some warming up, but if there was any pressure on the openers, Brooklyn noise-punk trio, BAMBARA, they accordingly did not seem to give two fucks about it. "Uhh, we're BAMBARA," mumbled lead singer Reid Bateh, as if he'd suddenly been called on in a class he usually skipped. Then with four rapid clicks from brother/drummer Blaze Bateh, their sound exploded into its monstrous shape, his stick-splintering rhythms forming a wild foundation for his bandmates to latch onto. As Reid pierced us with his dark lyrics, abused his mic stand, and even kicked his brother's snare clean off the set, BAMBARA got the crowd into their first fit of headbanging and left a lasting impression with their savage stage presence.
The air was thick with the scent of sweat and booze by the time Girl Band climbed onstage, and the crowd was finally in fine form, firing off a barrage of inebriated squeals as the guys found their places. In the moments before their explosive first notes, frontman Dara Kiely just barely glanced at the black-Sharpie setlist scrawled on the backs of his hands, while guitarist Alan Duggan plugged into his wild conglomeration of distortion pedals. It wasn't long before Girl Band gave the crowd what they'd come for, and you couldn't even brace yourself for that kind of impact – an absolute wall of sound, stuffed with delicious guitar fuzz, Kiely's distinct vocals permeating every thought in your head. The force of their rhythm section, thanks to bassist Daniel Fox and drummer Adam Faulkner, smashed into the now-moshing crowd like they were a pile of crash test dummies. They responded with another wave of satisfied thrashing.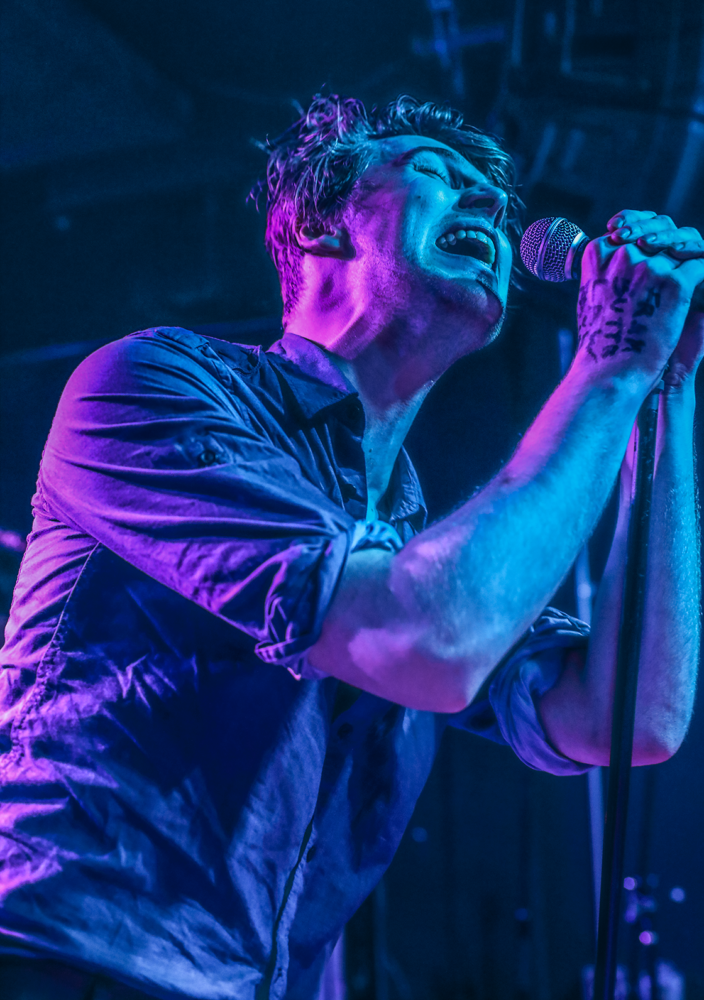 Girl Band's late-rocking set included fan favorites like "Pears For Lunch" and "Lawman," (each of which may have caused structural damage to the building), and ended with a banger of a closing track, "The Cha Cha Cha." Their set was punctuated by small moments as fans watched their every move – whether they were chugging full water bottles between songs, grabbing each other's hair by the fistful, or digging a guitar into an amp for extra noise. Girl Band's vibrations pounded and carved right through muscle, bone and brick in the tangle of matter around them; an all-encompassing fit of rage shared by everyone in the room. It's the kind of devastating live energy that's so hard to pin down or articulate – but it's exactly the reason their fans would follow them to any Satan bar on the planet.
Article: Olivia Isenhart
Photos: Shayne Hanley