When we saw The Wrecks open for All Time Low at SummerStage, tearing up songs from their first EP and forthcoming one, we had no idea how many hurdles they'd cleared to get to that point. Each track they banged out onstage was dance-ready, extra catchy, and satisfyingly grungy, with no hint of a struggle in their crowd-pleasing chords. It wasn't until we caught up with frontman Nick Anderson after the show that we realized how scrappy – and even risky – the whole process had been when they first pieced things together.
"The first EP [We Are The Wrecks] involved us sneaking into a recording studio where our friend was house-sitting," recalled Nick. "She left us a key and said 'You've got three days until this guy gets back.' We didn't actually know we were a secret…it was kind of a grey area. So we went in there and were like, 'Well, I guess we've got a key. We've got permission!' I'd never produced anything before, but we went in and Andrew D'Angelo, who is our live sound guy and tour manager now – well, he knew how to plug everything in! And I knew what I wanted our music to sound like. So we just combined and went for it."
"We tracked the three-song EP in those three days. And the last day that we were there, we got a call from the girl who let us in. She goes 'YO, the dude's ex-wife is on her way to the house. You guys need to get the hell out of there.' She was on her way over to give the diabetic cat shots or something, so we had to leave. We packed everything up, and I swear – I promise!" he stressed, inadvertently adding suspense. "We pulled out of the driveway, and she pulled right in. It was like something out of a movie."
"So we're leaving, and we're like 'Yeah, we did it, we got away with it!' But then we realized that our entire EP was on that guy's computer. We'd just wasted three days of Red Bulls and Domino's Pizza for nothing. But Andrew, our knight in shining armor, said 'Guys, I've got this.' 2am the next day, he goes and sneaks around the back gate, by himself, praying that the key is under the mat. He grabs the key, sneaks in, and then, I swear, it was like a black ops mission. He's sitting in the studio chair and he's got his vape, just quietly staring in the dark and waiting for it to load. Like 89 percent…90 percent…waiting for the megabytes to finish. And then we had it!"
But perhaps the craziest detail was their tenure as a band when it all went down. "We had only been together for like three days," Nick revealed. "We'd never mixed music before. But he and I mixed and edited it in his own bedroom studio on our laptops. We were just sitting in his room, all on different laptops, putting it together, making the EP happen – because we had a little bit of time and all the motivation in the world. Finally, we were about to tour, so one day we were like 'Okay, I think this sounds kind of good. Screw it, I'm happy with it, let's just put it out.' And the same day the EP came out, Jeff Regan from Alt Nation played it on his Advanced Placement show, and Allison [Hagendorf] from Spotify added it to her alt-rock playlist. And it was the first day of our tour. So we were like, 'Whoa! What is happening now?'"
"It really felt like – it still feels like – we cheated somehow and got away with something. I mean, we were broke; we were literally funding the band with medical studies. I did a schizophrenia study, I did an arthritis study – me and Schmizz [Nick Schmidt], our other guitarist, were both doing them, just so that we could wake up every single day and work on new songs, work on our band, work on getting us out there; that was the only goal. And they still worked at Red Robin and at hotels and stuff. But it was the only way we could afford to record music at a professional level without asking our parents for money."
"That was the first EP. For the new one, we went to L.A. to record it because we signed a record deal. Everything was good, we had some money, and we went in to record the new music. But it ended up that the vision of the band was kind of lost in those few weeks that we went in to record. We felt like it was sort of too poppy – just inauthentic to how we wanted our fans to see us, as a new band. So we trashed it. We threw away the EP. After we blew the whole budget, by the way," he laughed. "So we were back at square one, back to the medical studies and Red Robin shifts. We were like, 'What are we going to do?'"
"So we moved into my grandma's house in the middle of nowhere in Wellsville, New York. And my friend, Patrick Barry, has a studio in a barn in the middle of nowhere. So we went into this barn, and Andrew and I started co-producing again, and we just said, 'This is what's going to make our band sound like our band.' The label was behind it, and the band was behind it, so we went in and I stressed myself out for two weeks. We weren't quite done because we had this tour, but we ended up finishing it on this tour in the van. Even when we had a plane trip for press stuff, Andrew and I would be sitting there with the tray tables down and laptops out, just trying to finish the damn EP. That's been like the joke this whole tour: 'Finish the damn EP.'"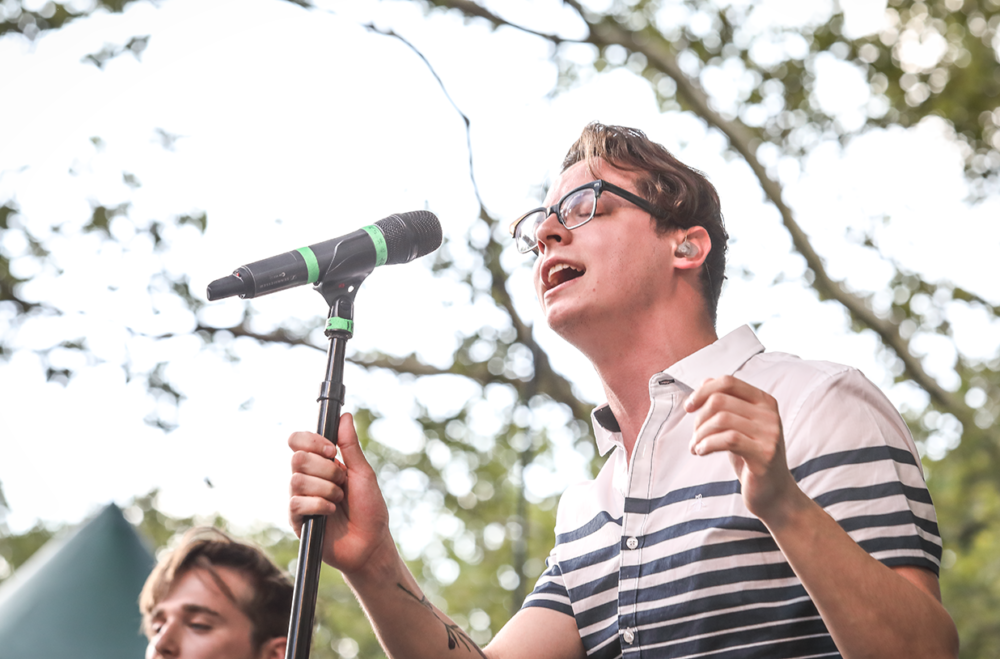 "And I think we're almost done," Nick concluded with great satisfaction. "We're going to have a couple singles out this year for sure," he promised. Knowing how much thought went into each one, and the level of authenticity The Wrecks rigorously hold themselves to, it's looking like an EP that's well worth the wait.
Article: Olivia Isenhart
Photos: Shayne Hanley