The darkly crooning indie-rock group Widowspeak came to Brooklyn's Rough Trade to cast a spell over the sold-out crowd with their gorgeous fourth album, Expect The Best. It has been awhile since these songbirds have passed through town, so it was definitely a treat for their homeground crowd another chance to get moody with their enchantresses.
Brooklyn's serenaders of cynicism, Air Waves, opened the show with an impressive singer-songwriterly charm. Nicole Schneit, brainchild and frontwoman of the project, is a brilliant up-and-coming arist who intermingles a resigned and melancholy timbre with a resilient and defiant growl. It's indie-rock with proper amounts of twanging country, some wistful indignity of folk, and touches of 90's alternative rock cynicism to produce a gorgeously dark incantation of nihilistic themes.
Chicago's bards of smooth and breezy rock called Clearance performed next. Singer Mike Bellis proves to be the perfect slacker-pop frontman with a smooth voice and catchy guitar hooks that repeatedly reminded me of the 90's alt rock gods known as Pavement. It wasn't a surprise they reminded me a lot of the 90's indie rock, as they almost bath themselves in the distinctly suave and fuzzy feedback, drizzle out the angelically sensitive lyrics, and wallow in the irreverently stoned demeanor. Their charmed voodoo proved to be the perfect pick-me-up between two overwhelming deep and brooding bands, not exactly upbeat and joyous, but they were definitely more of a foot-stopping chant to get the blood boiling.
Widowspeak had been known for quite some time as the moodiest band on the Brooklyn scene, but then they uprooted themselves to the tranquil seclusion of upstate New York, and now their singer Molly Hamilton has gone ahead and teleported to the far away land of Washington (her homestate), taking her magical melodic touch to a land far, far away. However, this division has apparently not stopped the band from forging on, and the change has definitely made this band much more nostalgic and sentimental on their new album. Molly has always had that particularly hypnotic vocal howl that incessantly reminds me of both the deeply bewitching moan of Mazzy Star's Hope Sandoval and the country-tinged somber angst of Cowboy Junkies' Margo Timmins. Her longtime partner and guitarist Robert Earl Thomas helps to create a different kind of mantra, pulling the music up with a delightfully playful strum and soundscaping warble that still keeps it moody while also supplying a kick.  Together, they sail on shoegazey waves, shimmering with an effervescence of dream-pop, but always smoldering with a deeply gloomy undercurrent. They will sweep you away live, so catch them before the undertow takes them back out to far away lands.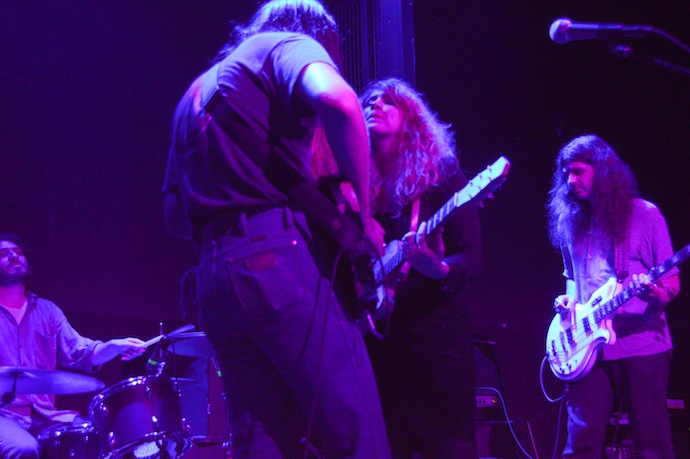 Article: Dean Keim