Lovers of Brooklyn's after-hours dance scene or the world of punky, synth-powered new wave had a few reasons to stay up late on Thursday and make their way to Baby's All Right. The night didn't officially begin until 11:30pm for the already-buzzed concertgoers, who were visibly psyched to see Future Punx take the stage in matching, straight-out-of-the-80s bodysuits, knowing the inevitable time-warp that would ensue. Their techno sound and don't-care attitude made for an energetic start, and the audience enjoyed the throwback, sinking happily into all the smoke and lights that came with it. In a similar burst of dance-inducing energy, the night ended in Friday's early-morning hours with Guerilla Toss, the local art rock band originally formed in Boston, who set up carefully before putting each item to use in their eclectic performance – including an electric violin wielded by frontwoman Kassie Carlson, whose classically-trained chops were perceptible amid their trippy beats. But as the hard-dancing crowd could attest, some of the most chill-inducing moments of the night occurred during the middle set that was sandwiched between them, in which Montreal moog rockers Duchess Says coaxed the entire room into mid-song rituals and spellbound participation – a return we'd eagerly awaited since their last NY show in Brooklyn last year, which ended with the crowd wrapped in plastic.
There were no props or plastic this time around, but the experience that followed when Duchess Says climbed onto the small stage was unforgettable, and at times, unbelievable. Her blue eyes glowing bright with excitement in Baby's hazy darkness, frontwoman Annie-Claude Deschênes was quick to work her magic on the audience, bringing them closer to the music with those subtle, inclusive gestures that people remember her by; a gentle touch to a fan's shoulder, a stop-everything-and-watch signal with ten fingers extended, or a graceful twirl of pinched thumb and forefinger, as if threading an invisible needle, among other enigmatic flourishes. Right on cue with her hands, their musical output was insane; a pulse-quickening race through vibrant beats, eruptions of drums, and volatile melodies that resolved with satisfying perfection. Their 8-song setlist was rich with still-unreleased songs and some fan favorites that blew the roof off, the band starting with "Ccut Up" and "Takatak" before busting out Sciences Nouvelles' "I Repeat Myself" and "Negative Thoughts," then ripping through "New York," "Jam," and "Ministry" into a badass finale of "I Give a Fuck." As the band behind her – comprised of Simon Besre on drums, Ismael Tremblay on guitar and keys, and Philippe Clément on bass – maintained their aggressive momentum, Annie-Claude sang out gorgeously and ferociously, spit water into the air, and let her eyes roll back in her head in unexpected moments of zen.
Duchess Says' affectionate fans were rewarded for their late-night attendance, because things went from memorable to legendary when Annie-Claude hopped off the stage on this particular night. Her knack for jumping into a tightly-packed pit and getting a crowd of stiff New Yorkers down to their knees dancing remains unchallenged, but on Thursday night, she seemed to linger there longer and connect more intensely with the fans she met on the floor. Unafraid to stay close, she remained there for the Sciences Nouvelles hits they so craved and thrust the mic into the many smiling faces around her, urging them each to join in. The thrill of getting to scream lyrics face-to-face with Annie-Claude was not lost on the fans who experienced it – especially those who found her scaling their bodies for impromptu piggyback rides. When she returned to the stage, the excitement over what had just happened fizzed over in the form of jocular pushing and shoving, which quickly turned into moshing, until there was a full-on whirlpool of elbows and fists where Annie-Claude had just been standing.
But right when it felt like all the space in the room had vanished, she shocked us by offering up some of her own. "Alright, now," she said firmly; one of the first times she'd spoken all night. "Up on the stage." The audience looked around quizzically, trying to figure out who she was addressing. "Up… on the fucking stage," Annie-Claude repeated unflinchingly. "One, two, three – up you go!" she instructed, as if nudging chickens into a coop. Right then, the crowd realized she was addressing all of them, and those closest to the front obeyed, taking her outstretched hand and climbing up to fill the tiny space around her. It was amazing how many people were able to squeeze in, and they instinctively began dancing as hard as they possibly could, Baby's ashtray lights strobing and popping wildly behind the spectacle. The band was somewhere in the mix, still shredding and setting the tempo, and Annie-Claude, it seemed, was in absolute heaven – genuinely happy just to have everyone sharing the stage with her. That's the thing about Duchess Says that's really special, yet so hard to pin down or define until she's stared straight into your eyes. Simply put, they love how much you love it. But it's the kind of love that sinks into your skin and stays there.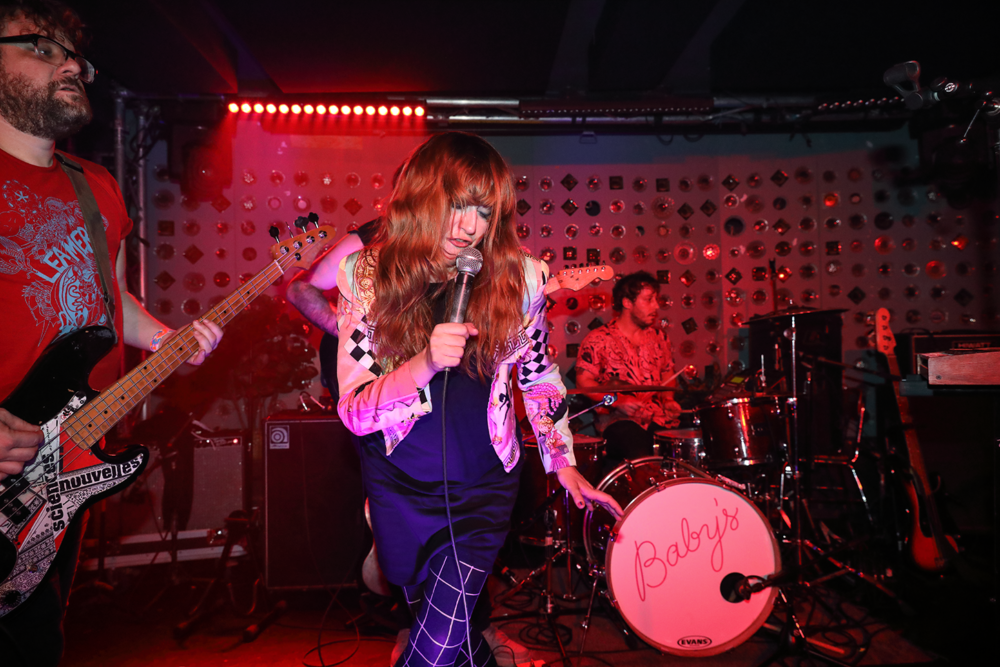 Article: Olivia Isenhart
Photos: Shayne Hanley