After playing the intimate Echo in Los Angeles last week, Moby flew into NYC this week to play two sold out shows at the equally tiny Rough Trade records. Acting as release shows for his new album and a return after a number of years to live performing, they were intended, as he told the crowd, to showcase and work out live much of his new output. Although going further to say he wasn't a sadist and realized he had to play some older hits as well. The new album Everything Was Beautiful, And Nothing Hurt, once again he borrowing a line from a classic novel (Kurt Vonnegut's Slaughterhouse Five), is a welcome return to the downtempo, trip hop, soul, electronica of his earlier and best known albums.
With no opener and after a record signing session in the main store, the lights faded down and Moby launched into "Mere Anarchy" the moody solemn opening track from the new record. Performing the song in almost pitch black with a band, comprised of drums, bass, two keyboards and vocalists Mindy Jones and Julie Mintz who sing on much of the record, it set the tempo for what was to come the rest of the evening. After 3 new songs (and a nod to bluesman John Lee Hooker)  came "Why Does My Heart Feel So Bad" the first of 4 songs off 1999's massive blockbuster Play. This touched off  a lovely story of  past warehouse crawls and a different NYC then the one that he inhabited when he used to live here and why he wanted to specifically play this venue.
What struck me throughout the night was how seamlessly the older numbers worked together with the new ones. After 2 recent albums with the Void Pacific Choir that were angry nods to punk and post punk, Moby once again is back to the dichotomy of portraying often bleak and melancholy subjects but imbued with music that elicits a sense of euphoria. Never more evident this evening when going from latest single "Like a Motherless Child," an uptempo rework of a classic blues spiritual (we didn't get the gospel chorus that he had the night before when it was performed on Late Night with Stephen Colbert) right into "Extreme Ways" from 2002's Play and followup 18.
Also striking was how much I had forgotten what a great guitar player he is. Even though guitar is not at the forefront of the new record, live was a different story. Moby stalking all over the stage ripping out one guitar solo after another. Nods to the aforementioned previous  2 albums before this recent one as well as 1996's alternative rock leaning Animal Rights.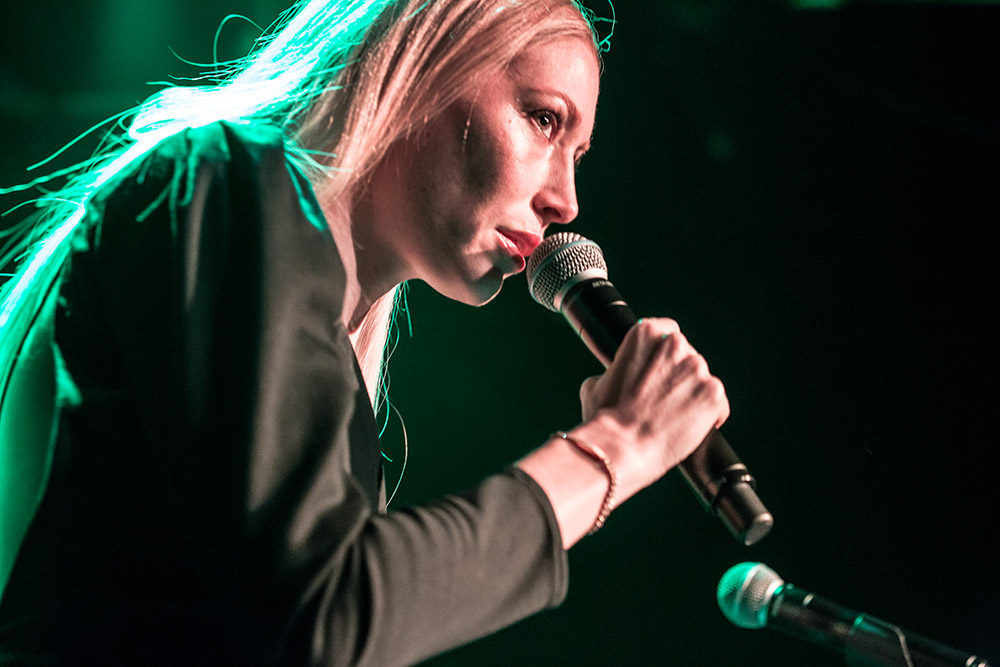 After a little over an hour, we were told that eschewing the regular pattern of "band going off and coming back for an encore schtick," that they would just stay on the stage and finish the show.  Little did the crowd know that said "encore" would be 45 more minutes of past classics like "South Side," "Natural Blues," "We Are All Made of Stars' and even going as far back as his first album for the always a joy to hear "Go" Also in that mix was a fiery cover of Led Zeppelin's "Whole Lotta Love," that singer Mindy Jones belted out and completely owned.
Two hours down and an audience that wasn't giving in at all, Moby with a number of polite Thank You's finished off this show with the lovely ballad "Almost Home," originally a duet with Damien Jurado off 2013's way underrated Innocents. As the crowd filed out the smiles on everyone's faces were a testament to the wonderful performance that just took place. While these shows were the only announced performances for this album, let's hope a larger tour is just around the corner.
Setlist:
Mere Anarchy
The Middle Is Gone
Falling Rain and Light
Why Does My Heart Feel So Bad?
Porcelain
This Wild Darkness
The Tired and the Hurt
The Last of Goodbyes
A Dark Cloud Is Coming
The Sorrow Tree
The Ceremony of Innocence
Like a Motherless Child
South Side
Extreme Ways
Natural Blues
Whole Lotta Love (Led Zeppelin)
Go
We Are All Made of Stars
Almost Home
Article: PSquared Media