The Virginia power trio of indie-pop melody smoothness and classic rock sonic authority known as Eternal Summers blessed NYC fans with their first performance here in far too long while celebrating the release of the second single "Contenders" off their upcoming album on the heels of their catchy new pop single "Forever Mine." They are reheating their engines with a brief warm-up tour in preparation of their first album in three years, titled Every Day It Feels Like I'm Dying, which will be out May 4 from Nevado Music, and they delivered some of those new tunes like a love letter to their Big Apple fans. They played the small and unassuming backroom venue of Alphaville in Bushwick with all of its awesomely divey goodness, in a show that might have flew under many people's radar, if it wasn't for the rampant fandom this band inspires among it devotees. Many of the "Eternal Heads" I know first came into their music via their association with the 90's indie pop greats Nada Surf whom also share a very extremist following, and their guitarist Doug Gillard even produced their third album, The Drop Beneath, back in 2015.
I also first experienced them opening for Nada at Bowery Ballroom in 2012, and I've consistently tried to catch them every time they were swinging through any part of the country I happened to be at the time, and that piety has only lovingly grown over the years. Guitarist and frontwoman Nicole Yun and singer and drummer Daniel Cundiff started the band back in 2009, later joined by bassist Jonathan Woods, and they clearly started catching on with indie popper audiophiles early on, as they already had a buzz about them when I was first exposed to them. Eternal Summers has lots of things to hook fans in, from catchy choruses, expansive soundscapes, versatile and playful rhythms, a super laid-back attitude, diverse musical tastes, swelling choruses, and mostly those angelic harmonies and ethereal vocals. Still, I do know that many in their fandom have also been disciples since the band rode in on a resurgence wave of reverb-heavy 50's and 60's beach/surf/girl band inspired music of the mid to late 00's along the likes Best Coast and Dum Dum Girls, but even back in those formative days, they stood out from the others in splendorous fashion. They are a perfect storm of a shoegaze haze, a raw punk gust, hails riot grrrl rebellion, showers of C86 pop smoothness, mists of PopFest harmonies past, and a thundering from many other famed 90's alt rock sounds. So, perhaps the approachability of this band also comes from its embrace of so many already beloved musical genres and scenes.
The Toronto trio Tough Age opened up the show, and they also kick up some similarly serious retro vibes and also attract a serious following of their own. Their music has whiffs of early REM, a latter Sonic Youth, and even a classic Yo La Tengo, but with the release of third album, Shame, last October, it's become very clear that they are building an impressive history and fandom all their own. Founding members guitarist and vocalist Jarrett Samson and bassist and vocalist Penny Clark have really formed something special with this band, and now I can say I've witnessed first-hand what all this buzz is about, and I'm totally hooked.
Eternal Summers played a lot of classics along from their already expansive catalogue like "Together or Alone," "Good As You," and "Gouge," but of course, there were lots of brand new songs for the longingly eager ears of their fans to admire. Clearly, the new record marks a new direction for the band, with more pop-hooks and catchy choruses than some of their sometimes more bellicose indie rock sounds of the past. Even though the new tracks' themes range from emotional paralysis to struggles with depression, the compositions seem to be optimistic, confident, cheerful, and downright boisterous. Taking influence from pop, bossa nova, and jazz, they still manage to distill these entrees into their own quintessential feast of melodic fuzz pop.
Their new stuff still has all the shimmering vibes of Galaxie 500, howling bellows of Bleeding Rainbow, chilling sensations of Widowspeak, wistful melancholies of Camera Obscura along with some newer pop-styled inflections like Lorde, Phantogram, or even the The xx.
As many fans as did show up to the show, there were plenty more I heard from that were bummed they missed this one. However, they should already rejoice as Eternal Summers has already announced they will return after the release of their new album in May, for at least one show at Rough Trade on June 12th, which is around the same time as drummer and the artist of all their album covers, Daniel Cundiff, will have an opening of his amazing illustrative and surreal collage-heavy artwork at Park Slope's Dub Pies. So, you freak fans out there, just stayed tuned, because a new Summers is on its way…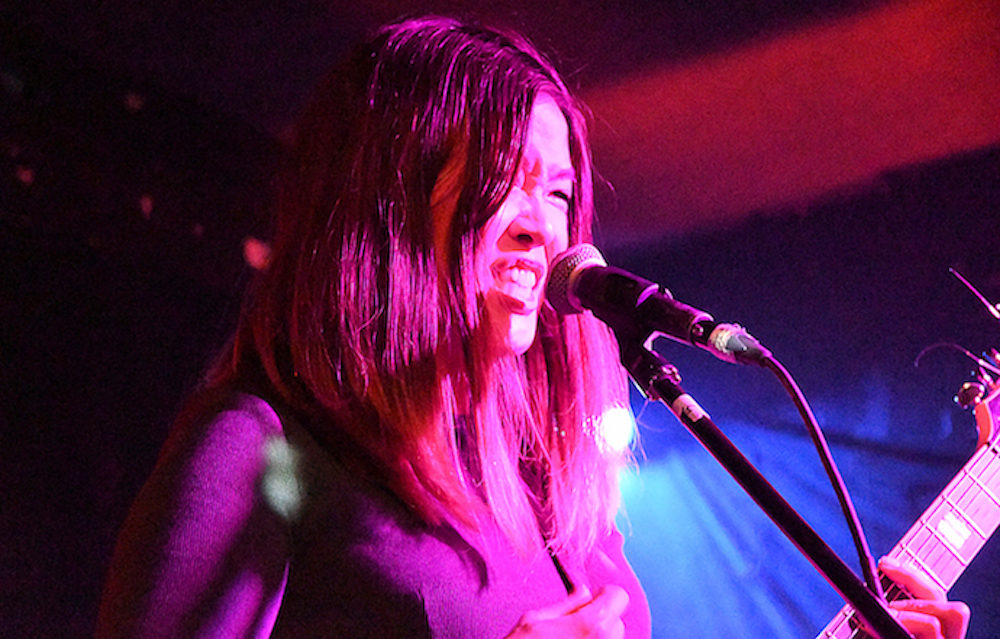 Article: Dean Keim