Greenpoint's cavernous concert venue Warsaw was overflowing with ethereal dream pop last week for an epic three night sold out run by the Canadian indie swooners Alvvays. I slipped into the jam-packed Polish National Home for their second show on Thursday night and felt ready to take on a night stuffed with otherworldly sonic crescendos, lush harmonies, and hypnotic tunes. It has only been a few years since their first album was released back in 2011, but they've already taken over the indie scene with their unique mixture of 90's C86-era indie pop, 80's gothy dream pop, 70's folk rock, and 60's girl group harmonies, as well as an abundant influence from front woman Molly Rankin's legacy coming from the famed Celtic folk group called the Rankin Family.
Opening the show was the fresh-faced Australian group called Hatchie, who may be new on the scene, but were a totally ideal warm-up for the headliner. This is a project revolving around bassist and singer-songwriter Harriette Pilbeam who radiates therapeutic warmth and a swaying dream-like flow. Her songs manage to shine above classic dream pop, transcends the ethereal ether, and really cut straight to the youthful heart that is buried deep inside all of us. The debut EP, Sugar & Spice, was just recently released, and after eagerly snatching a copy, has swiftly gone into repeat in my dreamy crown.
Up next was another new rising star in the indie-rock landscape, the Maryland band Snail Mail, which is also an expanded solo project of one extremely talented young artist, the startlingly unique 19 year-old guitarist and frontwoman Lindsey Jordan. Her debut LP, Lush, that was just released a couple months ago and has already charged to the summit of rock triumph mountain and become one of my personal favorite releases of the year. When I first saw them back in 2016 opening for Priests, I could already tell this was a band that would shine brightly, and it's become so obvious after seeing them again they have only begun to burn. Lindsey Jordan's songs do have a dreamy quality, but they not so much gently woo their way into your heart as much as they viciously slash and cut their way into your soul. Her unique vocal wails, melon collie dives into deep longing, and tomes of unrequited affection all speak of volumes teenage life, but rarely is it ever displayed with such pristine clarity and raw emotional sorrow. I can't wait to see them again, and hopefully it won't take two more years.
Alvvays played a solid majority of both of their albums, their enchanting self-titled debut from 2011 and the more matured and less poppy new album Antisocialites from last year. As the songs got a bit darker few songs in, they threw out a little taste of "Weird Al" Yankovic's "Amish Paradise" to break up the gloom. Still, as moody as the songs would often get, the band always managed to keep the music charging forward with sweeping and winding songs of ecstasy. There is a dualistic magic behind Alvvays' music that is exemplified by the battle between the sweet and the sour. Their music entranced and enthralled me ever since first seeing them several years back at the Northside Festival in Brooklyn, and they have only gotten better. It also turned out to be especially well worth sticking around through their encore as they closed out the show an 80's indie-pop chestnut with Snail Mail and Hatchie both coming out to play a cover The Hummingbirds' "Alimony."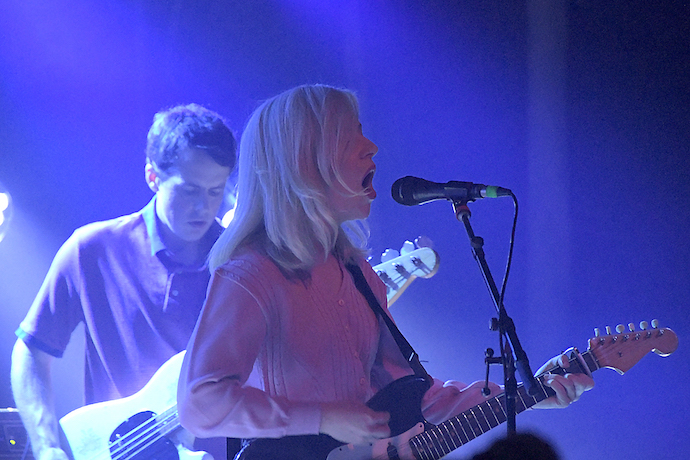 Article: Dean Keim