Right before this last leg of The Now Now Tour began, Damon Albarn said this might be the last go around for Gorillaz for the next decade. With that being said if you miss these shows, you may not see them possibly play live again since if we're being honest a lot can happen in a decade. While some of their festival sets have more guests than others since everyone is around, they have plenty in tow with them on a nightly basis to blow away audiences.
Boston had special opener Little Dragon, who are about to release a new record in November. Yukimi Nagano and Little Dragon are no stranger of course to Gorillaz as they were on the Plastic Beach record and tour. Their set had the floor constantly dancing with their arms waving about and set the mood for the night. "Lover Chanting" is quite the crowd pleaser live. They already have this new song down to perfection live. By the end of the set the packed floor and lower level of TD Garden were going absolutely wild for the band. Seeing them get this kind of recognition is always wonderful. They deserve it and so much more after 22 years as a band. Hopefully the new release next month will continue to open up new audiences for them.
As the lights went out and the crowd erupted, the gigantic band took the stage and went right into "M1A1" including the dub outro that they have taken to play live with the track. Something that was extremely satisfying during their two hour non-stop set were some of the new arrangement of songs that have evolved over the whole tour. The current line-up has been at it for about two years now and they are showing off what they are capable of at this point. "Every Planet We Reach is Dead" has a whole new feel to it while the ending to "Andromeda" just leaves you speechless. The best part is watching the musicians giving each other glances knowing they are just absolutely doing the best work of the whole tour right now.
Damon of course is the mastermind and centerpiece of the whole operation. The spotlight is on him as he travels across the stage, back and forth while singing the songs from this great catalog of music. Damon never stops moving or smiling for that matter. Knowing this is all for this band right now he seemed like a kid in an amusement park near closing time, making sure to go on all of the rides one more time. There were a few flubs during the night, including "19-2000" and "Feel Good Inc." but they were both just laughed off as the entire arena was rocking and it led to more smiles from Damon.
Once the guests start at a Gorillaz show, they don't stop. About a third into the set De La Soul took the stage for their first appearance of the night for "Superfast Jellyfish." Later on of course they came out for the glory that is "Feel Good Inc." and you can't help but love that wild laugh that comes from Maseo. Also guesting through the set were Peven Everett who does his best work on the disco infused "Strobelite", Jaime Principle on "Hollywood" and Bootie Brown on "Dirty Harry". Brown's part in "Dirty Harry" is such a high water mark for the show as he just takes over and get his verses out so perfectly you would think it's a recording, but man he can rap live.
Now on this tour they have revived the rare track "Latin Simone (Que Pasa Contigo)," but Boston did not get a chance to hear it, much to the sadness of this writer. Instead we got Yukimi Nagano to come out for a guest duet on "To Binge" for it's first playing since The Plastic Beach Tour in 2010. Watching Yukimi and Damon trade verses is just beautiful as they show a clear love and respect towards each other. I am not mad about the switch, but man it would have been something to see "Latin Simone." From there we got the four-pack close out of "Kids With Guns," "Clint Eastwood," "Don't Get Lost in Heaven" and "Demon Days." There may not be a better concert close out than the one-two punch of "Heaven" into "Demon Days." The music just swells to such a crescendo that you can't help but sing along with tears in your eyes. Again since it seems the Gorillaz touring machine is closing down, hopefully you can make it to Chicago, LA, or Mexico and get your last fix of heaven.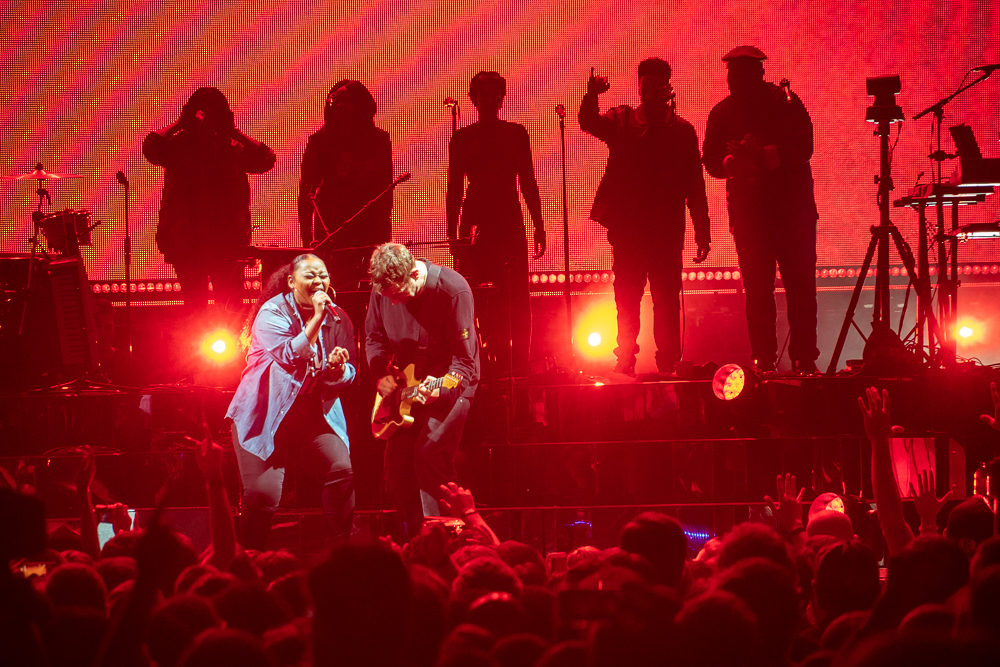 Article: Bryan Lasky