When Ella Vos (aka Lauren Salamone) left Børns to embark on a solo career, little did she realize how much of her personal life would be brought forth in her lyrics.  Whether you call it electronic pop, dream pop or some other genre, her ethereal voice draws you in and lightly touches your ears and your mind.  Her first single, "White Noise" (over 22 million streams on Spotify), was written about the joys and pains of being a new mother.  Her next, "You Don't Know About Me," was another hit and remixed with Icona Pop, Mija and Vérité with all proceeds benefiting the ACLU.  Somewhere along the way, she's had to make time to battle lymphoma while trying to make it as a pop star.
Besides getting very personal with her music, she's an avid story poster on social media.  Whether she's having a good or bad day, you can be there to follow along.  With a successful debut album Words I Never Said under her belt, she is touring in support of her recently released EP Watch and Wait.
Opening for Ella Vos were Aussie newcomer Jack Gray and Swedish pop singer Clara Mae. I had the chance to speak to Gray before the show. Having only recently moved to Los Angeles from Australia, he hasn't yet had a chance to get to know his new city, especially since he's been constantly touring. At 20, he can't drink yet but has been enjoying food options in each town. In NYC, his favorite has been Shake Shack. Gray will be releasing his debut EP lasted this year.
Gray hit the stage promptly at 8pm. In speaking to some of the fans in the front row, several of them had come to see him specifically. Before the show, he claimed to be extremely nervous but his performance exuded confidence, which belied his young age. Gray played an all too brief set, some on guitar, some on keyboard and one song on both!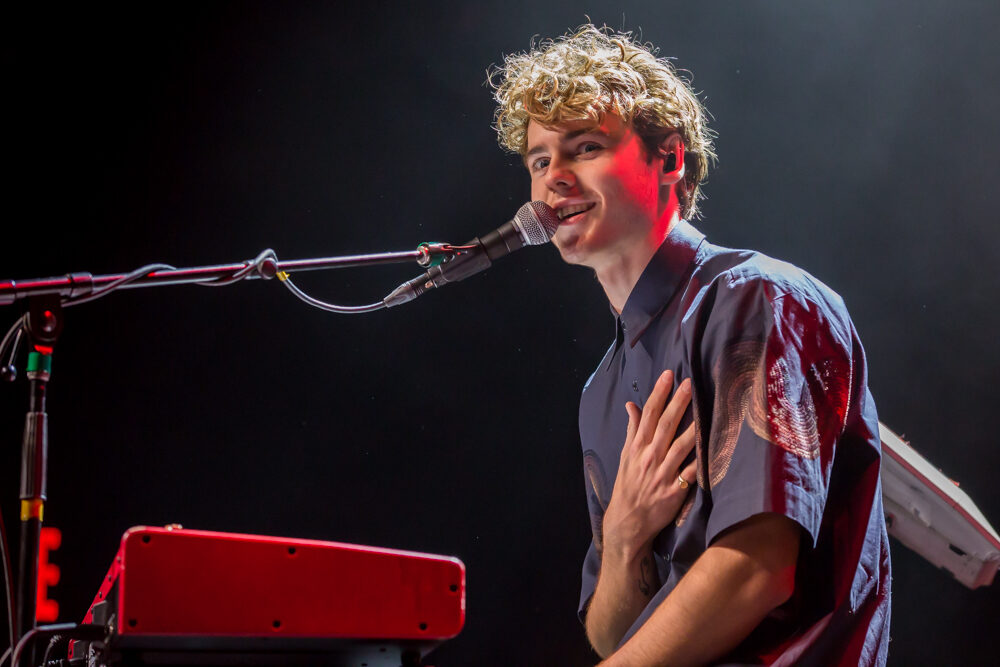 Clara Mae (aka Clara Hagman) is not a newcomer to the industry, having performed on Idol and been part of Swedish pop group, Ace of Base. She released her first solo EP Sorry For Writing All the Songs About You last year.  While the subjects of her songs are often not exactly happy, the pop-infused melodies had the crowd dancing and bopping along to the beats.
Ella Vos took the stage with only multi-instrumentalist Emily Moore accompanying her. She had a relaxed way about her as she sang and danced around the stage. In between songs, she spoke of her trials and tribulations and the strength she drew from her fans, yelling with the crowd "I AM STRONG"!!  She played most of her catalogue including covers of Billie Eilish's "When the Party's Over" and Kacey Musgraves' "Slow Burn."  You can see the joyful play between Ella Vos and Emily Moore, two people who are truly enjoying what they're doing.
From playing SoFar Sounds in 2017, to playing Rough Trade and being named one of Vevo's dscvr artists of 2018, to playing Brooklyn Steel tonight (April 10), Ella Vos is moving quickly so catch her before she starts to play arenas!  And definitely take a listen to her latest record Watch and Wait.
Article: Howard Shiau