The 90's dream pop legends The Ocean Blue stopped by Rough Trade records as they toured in support of their first album in six years, Kings and Queens/Knaves and Thieves. When they begun back in 1986, many music fans mistook this Hershey, Pennsylvania outfit as a British band, which is not surprising as they had a conspicuously ethereal Echo and The Bunnymen meets The Smiths sound, and it didn't hurt that frontman David Schelzel's voice sounded eerily like New Order's Bernard Sumner. They were darlings of college radio, released stunning albums on the Sire/Reprise label, and showcased their watery-themed pop melodies for years on MTV's alterna-punk 120 Minutes. Over nearly 30 years of recording, this band has gone through some changes and evolved quite a bit, but they have fortuitously still retained that magically shimmery appeal. Schelzel and founding bassist Bobby Mittan still form the core of the sound, while long-time collaborators guitarist Oed Ronne and drummer Peter Anderson help keep the spirits in the family and make sure everything feels distinctly familiar to the heartstrings.
A neighboring band from Philly called Suburban Living was first up, and they turned out to be a real pleasant surprise of an opener. I found myself bewildered by the number of bands this outfit actually reminded me of from song to song. They are dream pop in its truest classic sense, but I also detected lots of other 80's pop/new wave influences in their blend including Devo, Siouxsie and the Banshees, The Cars, Talking Heads, and many more. The band drenches you in waves of sparkling synths and jangly guitars with frontman Wesley Bunch's spaced vocals bringing it all together. They are a delight to groove out to, and I look forward to hearing and seeing more from this quartet.
The Ocean Blue's set contained much of their wonderful new album like my new faves, "Therein Lies The Problem With My Life" and "All the Way Blue," along with what seemed like all their classics rather evenly spread throughout the night like "Ballerina Out of Control," "Drifting, Falling," and "Between Something and Nothing." Schelzel had a pedal board that conked out three quarters of the way through the set, and he showed his experience and proficiency by bouncing straight to acoustic guitar (which many of his songs feature anyways), as he recounted the days of the early 90's when everyone was asking them to do MTV Unplugged-styled sets, and he also claimed "we are sailing into uncharted waters now"and was "improvising" the rest of the setlist. They also invited Ana Breton from the awesome local NYC band Dead Leaf Echo on stage for a duet on the gorgeous number "Love Doesn't Make It Easy on Us," played a bit of The Love Boat theme song with the early classic "Ask Me Jon," stayed true to their roots with a final encore cover of Joy Division's "Love Will Tear Us Apart." They sounded better than ever (and looked surprisingly young and vibrant to boot). I truly hope I can have this much fun at a concert again, and I hope to see these amazing seafarers traversing the waters again soon.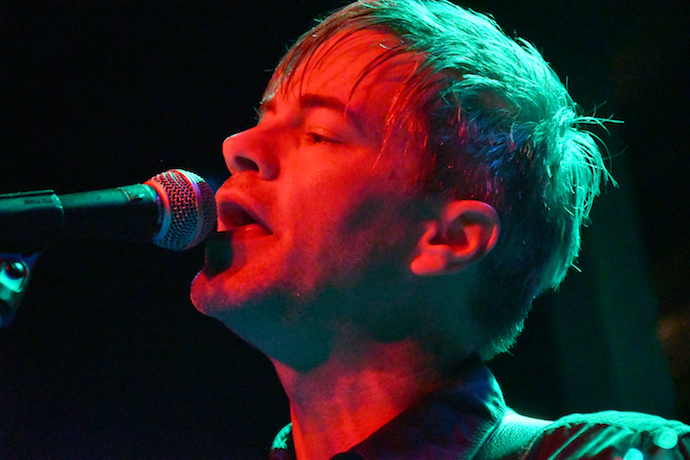 Article: Dean Keim