The quintessential kings of the 90's electronic scene known as The Chemical Brothers played an awestriking show at Queen's famed ex-tennis court arena Forest Hills Stadium on a clear and perfect Thursday night for a killer dance party. This night was extra special as it was the first time the duo played the NYC area in over 12 years and is thus far the only East Coast appearance scheduled for this tour. It was a rare chance to experience this big beat icon of the Manchester electronic dance scene and was certainly a show that will not soon be forgotten.
Warming up the dance floor was the Belgian DJ Charlotte de Witte, and she definitely brought back visions of the 90's house scene with her darkly stripped-down techno styling. She may look fresh-faced, but her youth camouflages her killer skills, as she blasts out playful yet dense beats from behind the decks, and she keeps up the thumping until you pass out from exhaustion. After seeing her, it is easy to see why she's been taking the techno world by storm, and she can make the dance floor feel like you've taken a trip back to a mid-90's warehouse rave. 
Childhood friends Tom Rowlands and Ed Simons first started their two turntables partnership back in the late 80's, first taking the Manchester dance scene by storm, but they became an international phenomenon the moment they dropped their first album in 1995. I was working at a record store in Denver at the time, and I remember people kept coming into the store looking for their first disc Exit Planet Dust that we couldn't seem to keep in stock. The moment I put the needle down to find out what all the fuss was about, I was taken away by The Chemical Brothers' distinctive beat, and I remember feeling a definite magic in their sound. The subterranean breakbeats mixed in with winding loops and patterns to the point that my head nearly exploded. I was much more into harder industrial type music at the time, but this made me respect the acid house and techno sounds far more than I ever had before, and only days after first really listening to their stuff, I began hearing their stuff played at about every rave and dance party I went to. Clearly many of those albums being sold back were being grabbed up by DJs and dance aficionados, but their success and growth continued to explode through the 90's with lots of surprising guest vocalists and videos directed by visionaries like Michel Gondry, and by this point, it's hard to find anybody who hasn't consumed at least one of their infectious little earworms at one point or another in their life. This is the first time I've seen them play live since the 90's, and the sensation of going brought me right back to those raving dancehall days of old.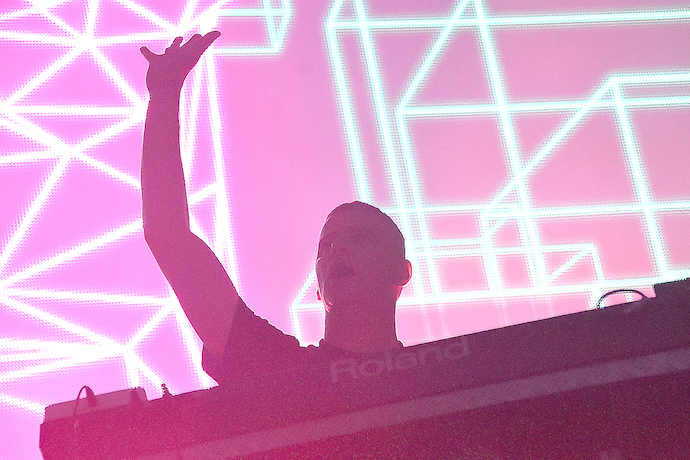 They wasted no time in getting into their expansive and classic catalogue, starting off with that wacky Queens' native Q-Tip rapping us into "Go" from their last album in 2015, and that was followed by more classics like "Chemical Beats," their cover of New Order's "Temptation" merging into "Star Guitar," my favorite "Hey Boy, Hey Girl," and a long finale involving masterworks like "Galvanize," "C-H-E-M-I-C-A-L," and, of course, "Block Rockin' Beats." Songs from their new album No Geography like the lead single of "Eve Of Destruction" fit into the groove of the show effortlessly as well. Sure, these two spent much of their time from behind their decks and synths, only occasionally throwing their hands up in the air and engaging the audience to get up and dance, but in my opinion their beats spoke for themselves. Plus, their stage show dazzled and awestruck everyone, as they threw everything at the crowd from brilliant light shows, spellbinding lasers, surrealistic videos, giant inflatable balls and confetti bombarding into the audience, to even a couple giant smoke-spewing Rock 'Em Sock 'Em Robots. After all of that sensory overload, who really needed two white British dudes hyping up the audience. It proved one of the best shows I've been to in a long, long time, and one of the best dance parties I've ever busted a groove at.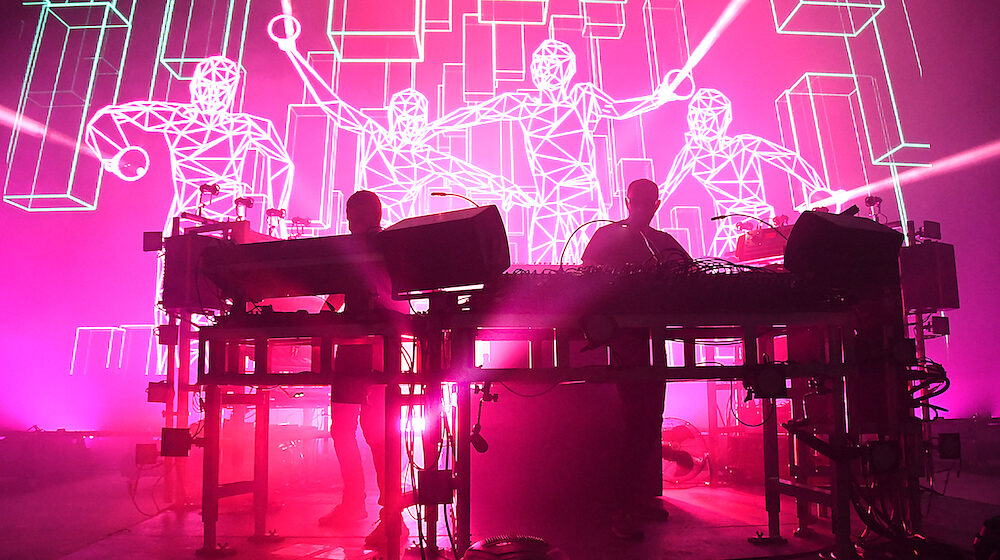 Article:Dean Keim