If you caught Foo Fighters debuting their new song "Shame Shame," on SNL this past weekend, then you know it was a gorgeous performance that sounded unlike most of their back-catalog. Complete with backup singers and an irresistible groove, "Shame Shame" blew us away and we are currently frothing at the mouths to hear more from their upcoming LP entitled Medicine At Midnight, which is out at midnight on 2-5-21, and you can pre-order that right HERE.
Luckily for us, we don't have to wait long for more live music from Foo Fighters as they are playing a livestream this Saturday at 5pm PST (8pm our time) at the legendary Roxy in. L.A. Presented by Coors Light, the livestream will feature innovative new technology custom created for this one of a kind Foo Fighters show: Beer's Eye View. For 25 years, Coors Light has been on stage – and in hand – with Foo Fighters. Now for the first time, Beer's Eye View will take fans behind the scenes backstage, into the thick of the action onstage, and to the best seat in the house (the VIB a/k/a Very Important Beer section)—all from the unique perspective of a live "Can Cam" attached to Dave's own Coors Light. Tickets are only 15 bucks and allows you to view the show for 48 hours and can be PURCHASED HERE. Always thinking about their fans, there will also be limited event merch available at this link.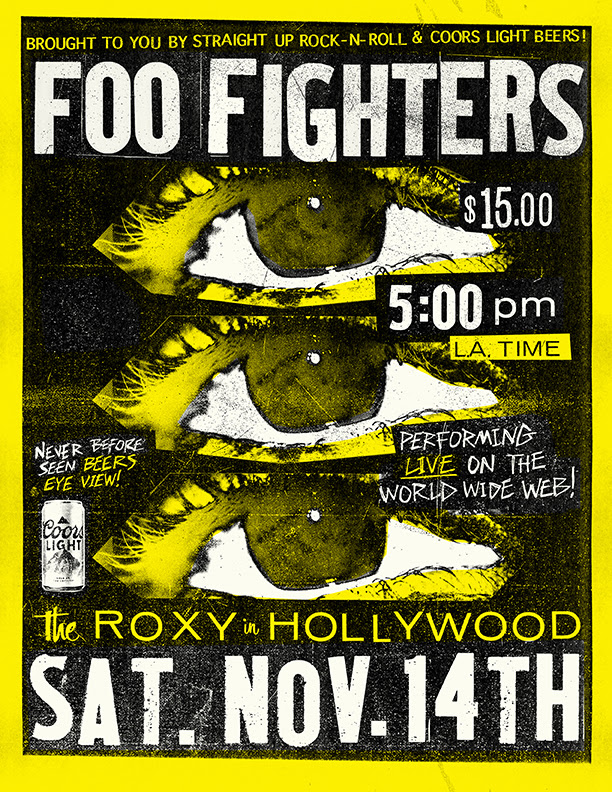 A portion of proceeds from Foo Fighters' Roxy streaming show will go to Sweet Relief. Founded in 1993 by Victoria Williams, Sweet Relief Musicians Fund provides financial assistance to all types of career musicians and music industry workers who are struggling to make ends meet while facing illness, disability, or age-related problems. Sweet Relief is providing immediate assistance to anyone in the music industry who has been financially impacted by COVID-19. Applications are being accepted now, please apply for help or DONATE if you can at SweetRelief.org.
Article/Cover Image: Shayne Hanley